Detective Byomkesh Bakshy Starring Sushant Singh Rajput
Audience is soon going to be entertained by a crime thriller flick based on the story of the fictional character Detective Byomkesh Bakshy invented by Bengali writer Sharadindu Bandyopadhyay who was popular for his too creative & intelligent mind plus virtue of solving every complicated case. This film has been directed by Dibakar Banerjee and produced by Banerjee and Aditya Chopra under the banners of Yash Raj Films Dibakar Banerjee Productions. It is a strong script based movie with interesting characters and proper story line.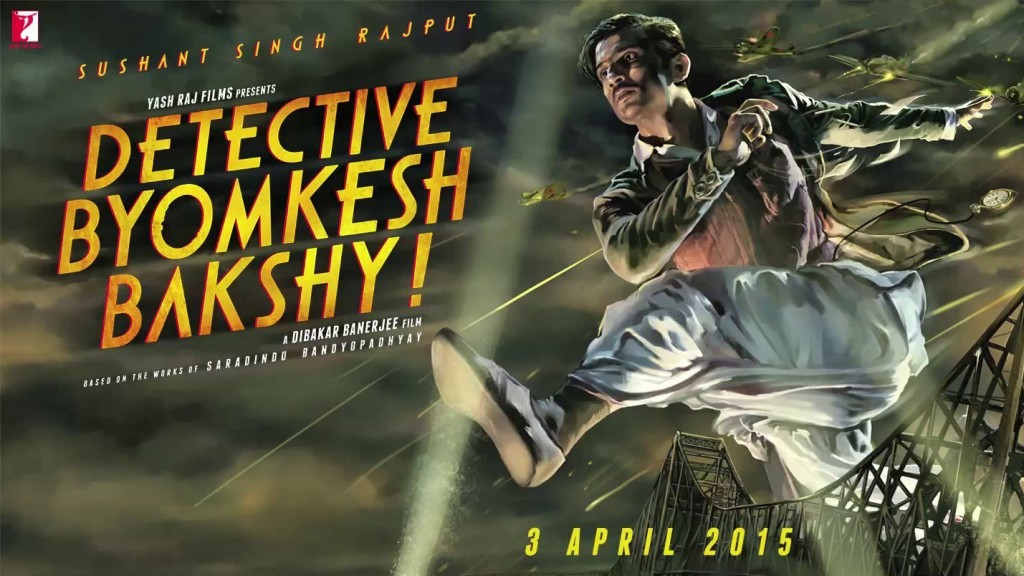 Release Date
This interesting movie is going to hit the big screen in cinemas this Friday on 3 April 2015. Much of the audiences who are aware about the character are excited to watch this film. Now it's time to look into other important details about the film.
Star Cast
After a long decision the film makers decided to feature some new faces in the film other than super stars as the main lead. There are also some familiar faces present in the movie in the supporting roles. Main characters are being played by Sushant Singh Rajput, Anand Tiwari and Swastika Mukherjee
Story
Detective Byomkesh Bakshy is a comic character type based film written by Sharadindu Bandyopadhyay  & inspired by an interesting complicated case to be solved by him Sushant is playing as Byomkesh Bakshi as the protagonist between 1932 and 1970. Set in war-torn Kolkata, plot follows one of the first cases solved by a twenty plus Byomkesh, fresh out of college, and an adventurous, young, and thrill-loving youth who wants to be a detective. It is not morale or message giving story other than is just a story teller script
Promotions
It is not a high budget movie hence the promotion cost is also low but running high on buzz. Also the star cast of the film is much popular among the audience therefore the publicity is not going very well. Pre release buzz is in favor of the flick.
Trailer
First official trailer of this movie has been released already so audience can took an overview for the film before going to theaters. It is totally a World War 2 depicting notion with lots of blood, violence & English atmosphere increasing suspense for audience. Trailer has got high response from the viewers by now and increasing the hype regarding movie every hour on social media.