Dishoom (2016) Review
Certification- 'U/A'
Director- Rohit Dhawan
Star cast- John Abraham, Varun Dhawan, Jacqueline Fernandez & Akshaye Khanna

After the 2011's comedy-drama Desi Boyz, David Dhawan's son Rohit Dhawan has offered his second directorial venture Dishoom, which is an action-adventure film features John Abraham, Varun Dhawan and Jacqueline Fernandez in lead roles. On a frank note, the film did not impressed critics much with its official trailer but the direction of Rohit and performances of stars make it little worthy.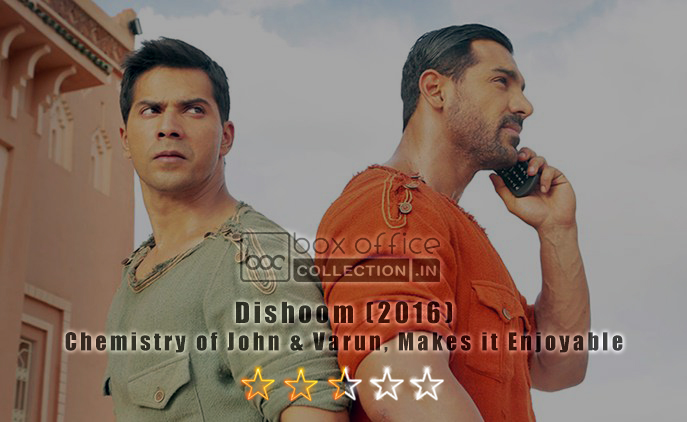 As its trailer & promos conveyed, Dishoom actually has poor story line with average screenplay & music. The few things it has above the 'average' tag are- its direction and performances, which hold you till the end. Undoubtedly John has given appreciable performance in the film but number of times, we have seen him in such cop/undercover agent roles with the same name 'Kabir', so his role is not very surprising.
Varun who doesn't suit in action sequences, has surprised this time and synced very well with John. Jacqueline flawlessly justified her character and looking very charming as always. The film also features the past-time actor Akshaye Khanna, whose performance deserves more appreciation than rest. But above these, films are made for entertainment and the thing which entertains you most in Dishoom, is the comic chemistry of John and Varun.
Overall Dishoom is not a must watch film, but also not a skippable one. You can go for it, if you are fan of John, Varun, Jacqueline, Akshaye Khanna or Akshay Kumar who has stunning cameo appearance in the film. You can go for it, because there is no other better new option to watch this weekend. But remember, do not go with a sack loaded with high expectations.
'Dishoom' Report Card
Story- Poor
Direction- Good
Screenplay- Average
Cinematography- Good
Dialogues- Average
Acting- Very Good
Action- Good
Music- Average
Overall- Average (2.5/5 Stars)