Ekkees Toppon Ki Salaami
Ekkees Toppon Ki Salaami is the upcoming Bollywood film set to hit the theatres soon. The film is in hypes regarding its funny teasers and interesting title of the film. Ekkees Toppon Ki Salaami has been directed by Ravindra Gautam and producer of the film is Anurradha Prasad and Abhinav Shukla. Set out to be an comedy cum drama film, Ekkees Toppon Ki Salaami has all new star cast in it along with some famed actor in main roles. Below we are providing you full details about the movie.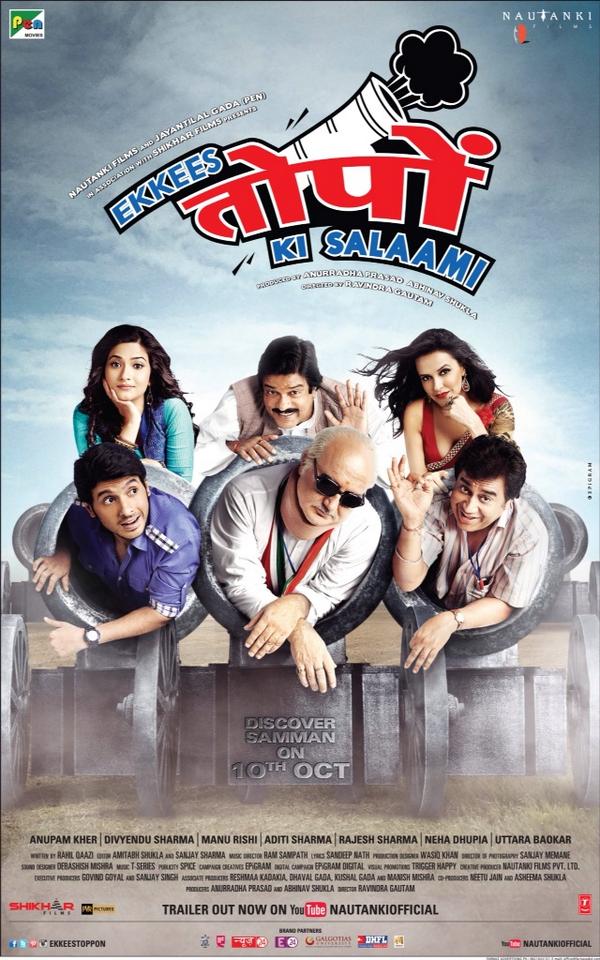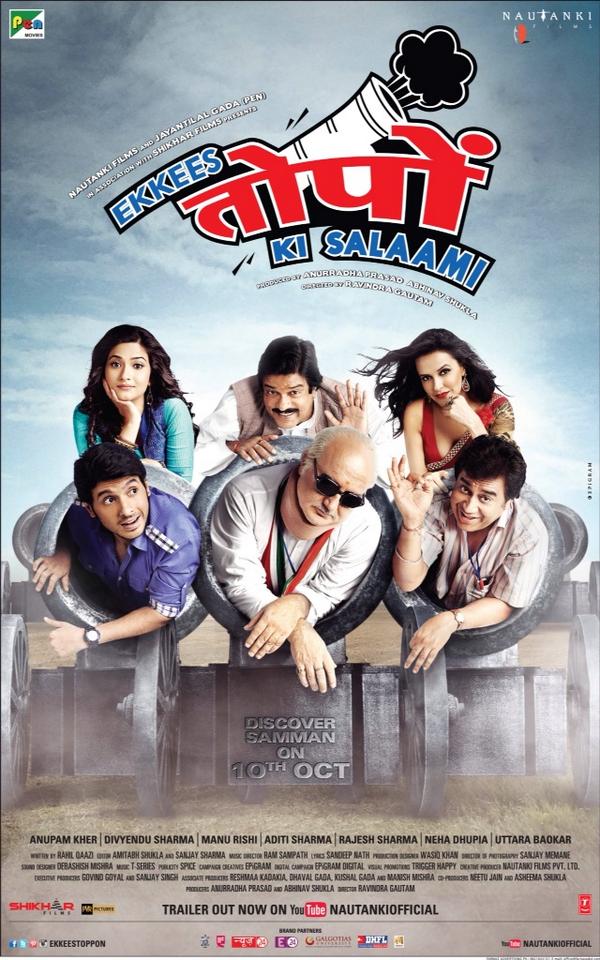 ---
Release Date
Ekkees Toppon Ki Salaami is set to release soon on box office and the final date has now been revealed by its film makers. Release date of the movie is set to be 10 October 2014. Earlier there were no fixed date for the film to release but now it has been confirmed by the film makers themselves that the movie will hit the theatres next week.
---
Star Cast
Being a comedy film, Ekkees Toppon Ki Salaami has a new star cast along with some known names for the audience. Neha Dhupia and Anupam Kher will be seen in the main roles in Ekkees Toppon Ki Salaami along with Divyendu Sharma, Manu Rishi Chadha and Aditi Sharma. We have seen many times that newcomers have created a flutter in Bollywood with their promising performances so this time also with Ekkees Toppon Ki Salaami we expect a good entertainment. Star cast of this movie is very talented and you will find man interesting characters in the film.
Detailed Star Cast of Ekkees Toppon Ki Salaami–
Anupam Kher
Neha Dhupia
Divyendu Sharma
Manu Rishi Chadha
Aditi Sharma
Rajesh Sharma
Uttara Baokar
Supriya Kumari
Bhagwan Tiwari
Sudhir Pandey
Aasif Sheikh
Anurag Arora
---
Story of Ekkees Toppon Ki Salaami
Story of the film is about the two sons who tend to set out for getting their father what he always has been dreaming of throughout his life, is to get respect, which was his only desire. This movie is very high on laughter and thrill and does take the audience through unbelievable attempts of Subhash and Shekhar Joshi to provide the father with an Ikkis topon ki salaami. Anupam Kher plays a wonderful role as a father and a common man as Purushotam Joshi, who in spite of being downright honest throughout his life during his long tenure as government employee does not get even a single bit of appreciation from his seniors and other employees. Rather, he is ridiculed for his honesty and made mockery at, which not only angers him, but also leaves him to searching for some respect that is due to him for his sincere and dedicated service, where he is found working among corrupt colleagues. It is Joshi's sons, who take that extra effort to go the additional mile for getting the only wish of their father to be fulfilled. The movie portrays their journey, efforts and the circumstances that take place during this time, which is sure to spell bound the audience and keep them glued to their seats.
---
Music
Music of Ekkees Toppon Ki Salaami is good and this movie is very unusual and different from rest of the earlier Bollywood movies. Being a comedy and funny journey movie, the music completely justifies the title and film. It has been composed by Ram Sampath who has earlier given many nice songs.
---
Promotions
Being not a much high cost or star rated movie, Ekkees Toppon Ki Salaami has not got any high promotion value but due to the fame of the Anupam Kher in his best forte- comedy, audience seems excited towards this film too. Film is being promoted on smaller basis on different platforms these days.
---
Trailer
First official trailer of Ekkees Toppon Ki Salaami has been released shortly and the trailer is quite a nice and funny. It shows quite clearly the theme of the film and it looks very giggling to everyone. Viewers have liked the content of the movie by now decently and of the trailers as soon as it revealed. Now it is time for viewers to wait for the final release day of the film.