The Avengers- Age of Ultron
Sequel to the previous one Marvels the Avengers, the latest venture of this Avengers- Age of Ultron is all set to be released very soon. Based on the super hit and popular Marvel Comics superhero team named Avengers, this film is another addition to the same. It has been directed by Joss Whedon and produced by Kevin Feige under the production house of Marvel Studio and being distributed by Walt Disney Studios Motion Pictures.
Film as already everyone knows is based on a super hero fiction movie. Budget of the film is too high and made on too high cost of production. Screens numbers are worldwide as the film is releasing in many countries on wide banner. Let's look on to other additional details about this interesting Hollywood movie.
After much postponement, now the film has finally been scheduled to get released on 24 April 2015 in India.
This newer version has lots of star cast due to the being sequel so including the older plus some new names. Lead roles are being played by Robert Downey, Jr., Chris Hemsworth, Mark Ruffalo, Chris Evans, Scarlett Johansson, Jeremy Renner, Don Cheadle, Aaron Taylor-Johnson, Elizabeth Olsen, Paul Bettany, Cobie Smulders, Anthony Mackie, Hayley Atwell, Idris Elba, Stellan Skarsgård, James Spader, and Samuel L. Jackson.
The Avengers are forewarned by self working intelligence machine made by Tony to keep peace named Ultron but later the same becomes the reason of danger for human as it regards human as the main enemy. How the Avenger team along with some other faces the danger an along with new characters as obstacles is the theme of the film.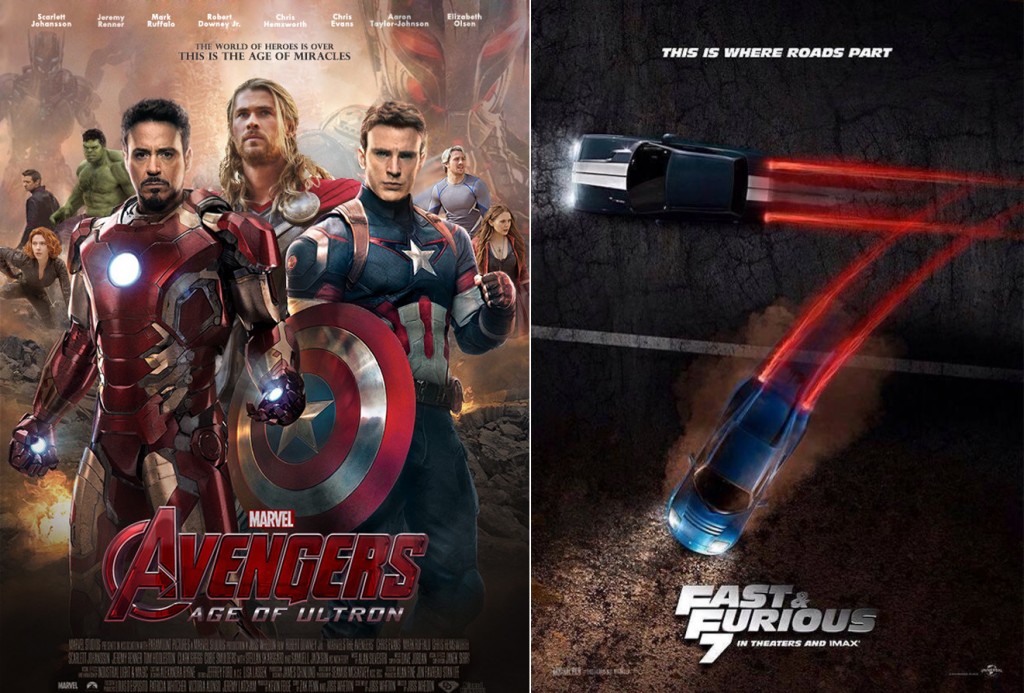 Fast & Furious 7
Apart from much hyped Avengers, another buzzed film is also releasing soon named Fast & Furious 7. Being the 7th installment of the film, this venture continues from the Tokyo Drift and features almost same star cast with some new names and some less old names in it. It includes the main 7- Vin Diesel, Paul Walker, Dwayne Johnson, Michelle Rodriguez, Jordana Brewster, Tyrese Gibson, Ludacris, Lucas Black and Jason Statham in lead roles.
Story is based on the defeat of the villain Owen Shaw and his team but as soon as the Dominic Toretto and his crew starts living life normally Owen Shaw older brother Deckard gets after them seeking revenge of his brother's death. Both arrive on finding each other, Deckard for revenge and Dominic for knowing the killer of their crew member Han. It will release on 2 April 2015 in India and has been made on too high budget.
Both movies being such a big budget and already popular movies, talking about first one first then Marvel ventures do not need much promotion or publicity as they themselves gets publicized world widely before the release. On the other hand Fast & Furious series is always in media buzz all over the countries from so much time and is expected to see a high business in its lifetime.