Godzilla Movie Wiki
After the grand success of super hit Hollywood movie The Amazing Spider Man 2, another Hollywood movie is all set to hit the big screens very soon. It is an upcoming American science fiction giant monster film based on the Japanese film monster of the same name and is a reboot of the Godzilla film franchise. It is to be the second Godzilla film to be fully filmed by an American studio (where the third American film from 1956, Godzilla, King of the Monsters, was edited), after the 1998 film of the same name. The film is directed by Gareth Edwards and stars Aaron Taylor-Johnson, Elizabeth Olsen, Bryan Cranston, Juliette Binoche, David Strathairn and Ken Watanabe and is scheduled for release on May 16, 2014. Let's peep into other related info about Godzilla movie 2014.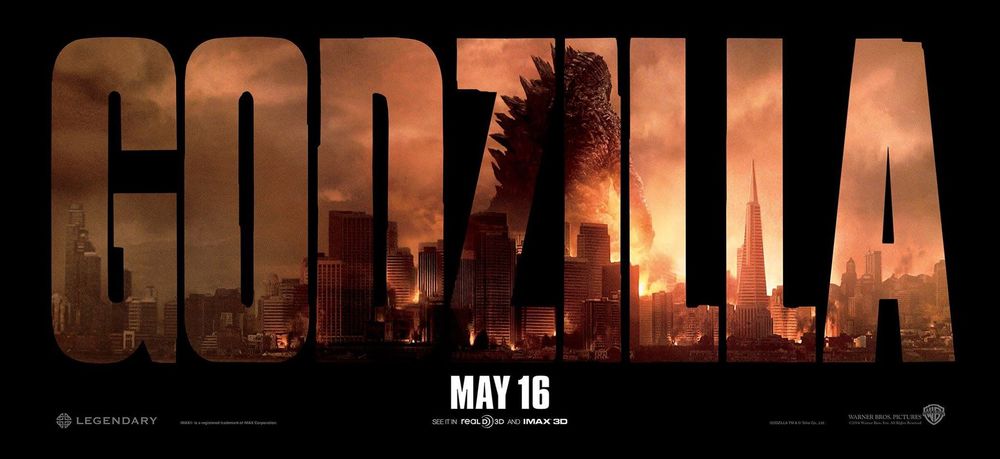 Star Cast
Godzilla movie 2014 has different popular star cast in it with many famous names and some new and some older faces. The varied star casts of Godzilla 2014 are –
Aaron Taylor-Johnson   as   Lieutenant Ford Brody
Ken Watanabe   as   Ichiro Serizawa
Bryan Cranston   as   Joseph Brody
Elizabeth Olsen   as   Elle Brody
Carson Bolde   as   Sam Brody
Sally Hawkins   as   Vivienne Graham
Juliette Binoche   as   Sandra Brody
David Strathairn   as   Admiral Stenz
CJ Adams   as   Young Ford
Richard T. Jones   as   Captain Russell Hampton
Akira Takarada   as   Japanese Immigration Agent
Victor Rasuk   as   Major Tre Morales
Jake Cunanan   as   Akio
Yuki Morita   as   Akio's mother
Warren Takeuchi   as   Akio's father
Jared Keeso   as   "Jump Master"
Patrick Sabongui   as   Master Sergeant Marcus Waltz
Al Sapienza   as   Huddleston
Brian Markinson   as   Whalen
Story of Godzilla
The film will add a "very compelling human drama" and that Godzilla would be tied to a "different contemporary issue" than the original atomic bomb testing. Director Gareth Edwards, at a promotional appearance in 2012, described the tone of the film. "We're just going to take it really seriously. I've wanted to see this movie this way all my life. Imagine if this really happened – as crazy as it sounds – what would it really be like?" In January, 2013, it was reported that Warner Brothers, in a meeting for advertisers, revealed that the film would contain two new monsters in addition to Godzilla, and the plot of the film would revolve around the story of an individual soldier. It's kind of going back to its roots of the original Japanese film."
Music
Godzilla's soundtrack, released as "Godzilla: Original Motion Picture Soundtrack", was composed by Alexandre Desplat. The soundtrack contains 20 tracks.
Promotions
Visitors to the 2010 San Diego Comic-Con received a t-shirt with an image of the new Godzilla design. The image is credited to comics and manga publisher UDON Entertainment. Gonzalo Ordóñez Arias worked with Legendary and Toho for the painting. Visitors to the Legendary Pictures booth at the convention could view an animation of the new Godzilla breathing his atomic breath superimposed over their image captured via a webcam. The augmented reality promotion was designed by Talking Dog Studios of Saskatchewan, Canada. This shows the film is being promoted on a very high note and cost for more attention of the viewers.
Trailers
First official trailer of Godzilla has released long ago and there are many different trailers that also released between this times like
Official Teaser Trailer
Official Japanese Trailer
Godzilla Official Japanese Trailer 1 (2014) – Bryan Cranston Monster Movie HD
Godzilla – Official Main Trailer HD
Official Main Trailer
Godzilla 2014 French Canadian Trailer
Official French/Canadian Main Trailer
Godzilla – International Trailer HD
Official International Trailer
Godzilla – Extended Look HD
Godzilla Extended Look Trailer
Godzilla – Asia Trailer HD
Official Asian Trailer