Happy New Year Movie Music Review
The most awaited movie of Bollywood this year till now named Happy New Year is all set to bang the box office this month on the occasion of biggest Hindu festival Diwali. As we also do not need to tell much about the movie because nowadays audience can easily see the excitement and buzz regarding the pre release craze of audience for Happy New Year. We have seen that viewers are extremely excited to watch this movie; they have loved the trailers, first look, characters and everything about the film. But one thing that every person loves about the film at most is – Music. Happy New Year is sort of film which has everything in it- superb star cast, sweltering chemistry, unique story, and most favorite of audience is its music. Nowadays everywhere you can hear the songs of this film and also people singing the songs whether India Waale or the romantic song Manwa Laage. Music of Happy New Year has already hit the chartbusters very first day it got released. In addition to it, Deepika Padukone who has given an item number named Lovely of this movie is gaining so much public attention that all viewers are crazy for her hot item number.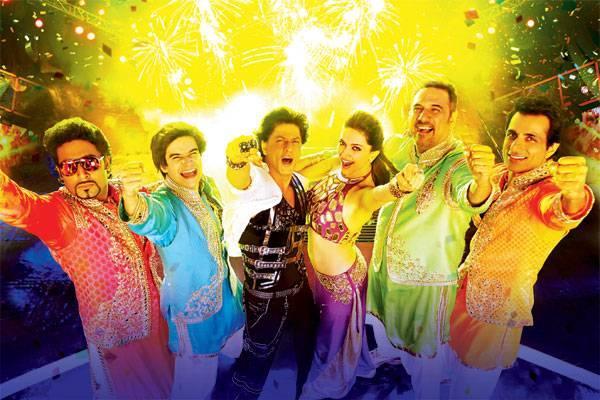 Happy New Year has got so many good tracks in it album that audience is confused what song to like or rate more. Whether it's Lovely, Manwa Laage, India Waale or other songs all have been so much loved by the audience that there is so much demand for Happy New Year songs. Also on internet you can easily see the public craze for the music of Happy New Year in the form of numerous likes and comments. Not only the audience, even the critics have also rated music of Happy New Year one of the best, as per the music reviews by the critics, they found film to have one of the best music of this year and rated it 5 stars. Music of the film is already out so one can enjoy the tracks and have their good time listening these songs. Music for Happy New Year has been given by Shah Rukh Khan, Kanika Kapoor, Vishal Dadlani, K K, Shankar Mahadevan, Neeti Mohan, Arijit Singh and Shreya Ghoshal.
India Waale- K.K. , Shankar Mahadevan, Vishal Dadlani & Neeti Mohan
Manwa Laage-  Shreya Ghoshal & Arijit Singh
Satakli- Sukhwinder Singh
Lovely– Fateh, Miraya Varma, Kanika Kapoor & Ravindra Upadhyay
World Dance Medley-  Neeti Mohan, Vishal Dadlani, Sukhwinder Singh, K.K., Shankar Mahadevan & Shahrukh Khan
Nonsense Ki Night– Mika Singh
Dance Like a Chhammiya– Sunidhi Chauhan & Vishal Dadlani
Sharabi- Manj Musik, Nindy Kaur, Vishal Dadlani & Shekhar Ravjiani
India Waale (Electronic)– K.K. , Shankar Mahadevan, Vishal Dadlani & Neeti Mohan
The Heist (Instrumental)– John Stewart Eduri
Kamlee– Kanika Kapoor, Ravindra Upadhyay, Fateh & Mirava Varma