Hera Pheri 3 Movie Details
After 8 years gap of audience excitement and suspense now the film makers have officially revealed the release and other details regarding the sequel of hit comedy movie Hera Pheri series named Hera Pheri 3. It is a total fun and comedy flick based on the story of silly friends with some common characters in previous installments who are very humorous and entertaining. As per the reports, film has been directed by Neeraj Vora and produced by Firoz A. Nadiadwala under the banner Base Industries Group.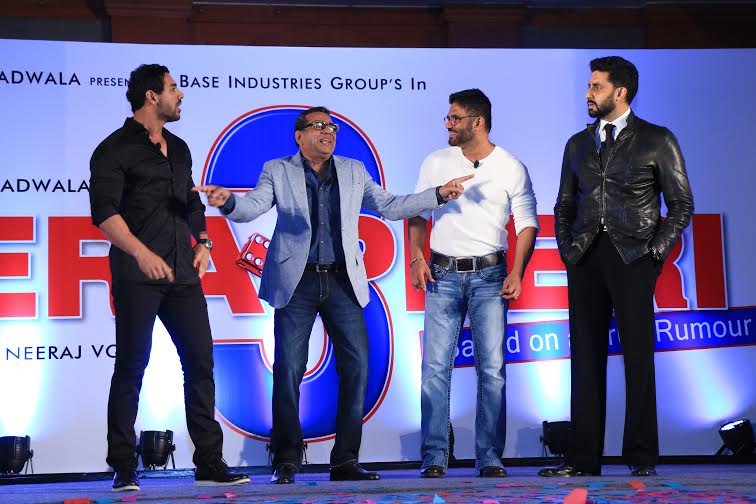 It is a very widely star casted flick with lots of Bollywood personalities in it. With such a huge star cast this flick got mind blowing response from the public before the release but there is one drawback to it, i.e. it is without Akshay Kumar so this is quite disappointing for viewers. It features Paresh Rawal, Suniel Shetty, John Abraham & Abhishek Bachchan.
Story of this flick has been written also by Neeraj Vora and is totally based on freaking comedy script "Based on a True Rumour" like in all other prequels. It is third installments and continued the story left in the last part where the Raju is just about to drop the guns in the river. What happens after that how other person comes as a new character in the film replacing Akshay Kumar and where does the film lead is the main story of the film giving audience lots of comedy dose.
Alike all the parts music of Hera Pheri 3 is also being expected to be very entertaining and so to hit the chartbusters. Total budget of the film is good enough but not too high due to a comedy based film on most and not an action one. It will be shown on decent number of screens giving it good chance to get audience response on maximum.
Hera Pheri 3 Movie Launch
Film makers of Hera Pheri 3 have recently held the event of movie launch on 12 January 2015 with the entire star cast along. There were many people attending the event sand it was quite successfully completed. Now that the movie launch has been done, everyone is waiting for more details coming out regarding the film. Though the craze this time is not that high due to absence of Akshay Kumar but still viewers are looking forward for its release soon.