Kaabil (2017) Review
Genre- Drama, Action & Thriller
Certificate- U/A
Director- Sanjay Gupta
Star cast- Hrithik Roshan, Yami Gautam, Ronit Roy & Rohit Roy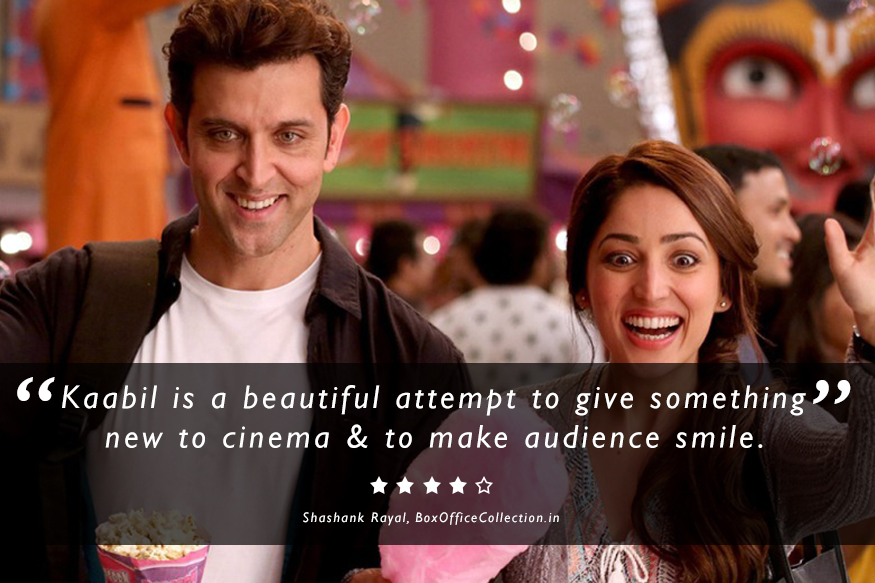 Once again a father-son duo, Rakesh Roshan & Hrithik Roshan have come together with a bang. They have offered a strong movie, which is quite similar to its title 'Kaabil' i.e. capable to impress viewers. This is for the first time, when somebody portrayed the love story between two visually challenged people. Undoubtedly, it is a beautiful attempt to give something new to Indian cinema and to make you smile at most of the sequences. The movie keeps you connected through out till the end.
Kaabil has a good story line, in which a visually challenged man Rohan 'Hrithik Roshan' who is a cartoon voice-over artist meets with Supriya 'Yami Gautam' a working woman but she is also blind. With time they fall in love with each other and gets married. Both live happily together until the dark day comes in their life when Supriya gets raped by the local goon Amit 'Rohit Roy' & his friend. After the incident she commits suicide, which leaves Rohan shriveled and from here the revenge story starts, which can also be said as 'the thrill begins…'.
Talking about the performances then like the adjacent release Raees, Kaabil also stands on top. But the characters in it are written more beautifully. Justifying to his role, Hrithik has given marvelous performance in the movie which can be marked as one of his best. Leading lady Yami Gautam has played her role impactfully and looking pretty as always. Ronit Roy as an antagonist & rest have also performed very well.
Music of Kaabil is given by Rajesh Roshan, which is kaabil-e-tareef and one of the strong elements in it. Sharp screenplay, nice dialogues & sincere direction make it a good treat for eyes & brain as well. At rest of the technicality also, this drama action-thriller scores good. Overall it is a worth to watch intense & gripping entertainer with youthful music, which deserves your time.
'Kaabil' Final Report
Story- Good
Direction- Very Good
Screenplay- Very Good
Cinematography- Very Good
Editing- Good
Dialogues- Very Good
Acting- Outstanding
Action- Good
Music- Very Good
Overall- Very Good (4/5 Stars)