Releasing Details of Khamoshiyan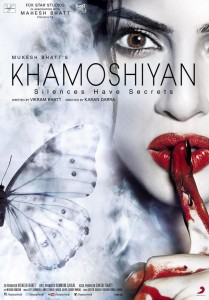 Upcoming movie
Khamoshiyan
is set to release in the theatres in the coming time. Film has been directed by Karan Darra and produced by Mahesh Bhatt and Mukesh Bhatt under the banners of Vishesh Films and Fox Star Studios. Film is a debut movie for the lead star cast who will be seen first time in the main character. It features
Gurmeet Choudhary, Ali Fazal and Sapna Pabbi
in the lead roles.
Film is in the hypes nowadays due to its interesting story line and bold chemistry between the leads. Till now the story of the film as per released is based on a triangular love story amidst the beautiful location of Kashmir which also comprises erotic notches in between the scenes. Entire star casts have acted much boldly which might turn against or in favor of the film. Whole synopsis revolves around life of a writer, a girl and other guy which will entertain the viewers.
Coming to the music of this erotic venture, then it has got some nice tracks in it. Music directors are Ankit Tiwari and Jeet Ganguly. The title song has been already released shortly on 10 December 2014 and now very soon full album will be among the audience.
Earlier it was scheduled for the day 1 May 2015 but now due to some changes the final date of release for film is 30 January 2015 as per the reports revealed.
Khamoshiyan is not a big budget movie so there is not much to reveal about this head. Film has been made on a low cost, total budget of the movie is around 20 Crores at most.
Last but not least, flick will not be releasing on decent number of screens. Being made under the Bhatt effect; it will still gain enough publicity and audience response.
Khamoshiyan Official Trailer
First official trailer from the venture has been released finally and audience excitement has been quite satisfied as with the content and theme shown. Now that the film's first official trailer has been release, hence audience have found it way bold than expected. The actress is looking quite beautiful and bold in Khamoshiyan. Also male star cast has performed many such scenes on the film which are surely controversial. The thriller notch in between the love story, grey shades and past will surely rejuvenate the viewers.