Review of 'Kis Kisko Pyaar Karoon'
Movie: Kis Kisko Pyaar Karoon (2015)
Cast: Kapil Sharma, Elli Avram, Simran Kaur Mundi, Manjari Phandis, Sai Lokur, Arbaaz Khan & Varun Sharma
Director: Abbas-Mustan

Finally the day has come, for which India's most favorite stand up comedian Kapil Sharma was waiting from a long time. Yes his debut movie Kis Kisko Pyaar Karoon has released out on box office. As expected movie is getting wonderful response from audience in India as well as overseas. More over this, it is receiving overall positive reviews from critics.
In last few year, Kapil has gained huge fan following among audience with his very popular TV show Comedy Nights with Kapil. This is not hidden from anyone, that from a long time he wanted to make his debut in Bollywood as lead. Earlier Kapil was signed for YRF's Bank Chor but later he had opted out from the movie. Then he joined hands with Abbas-Mustan for Kis Kisko Pyaar Karoon, which is successfully running in cinemas now.
Today I watched the movie and unexpectedly find it very entertaining & hilarious. I was amazed to see the craze of audience, Kapil is not a superstar but his fan following is very high. The show was houseful and everyone thoroughly enjoying the movie. Kis Kisko Pyaar Karoon is simply a paisa vasool movie & we can say it as Comedy Hours with Kapil. The movie is integrated with hilarious punches and fresh dialogues.
Everyone including Kapil, has performed his/her character very well. Even after being a debutant, Kapil acted so maturely. But still he has to burn more calories, to achieve the personality like a hero. Arbaaz Khan who is playing a supporting character, is looking younger and smarter than the lead actor Kapil. Second thing that makes the movie weak, is its average music.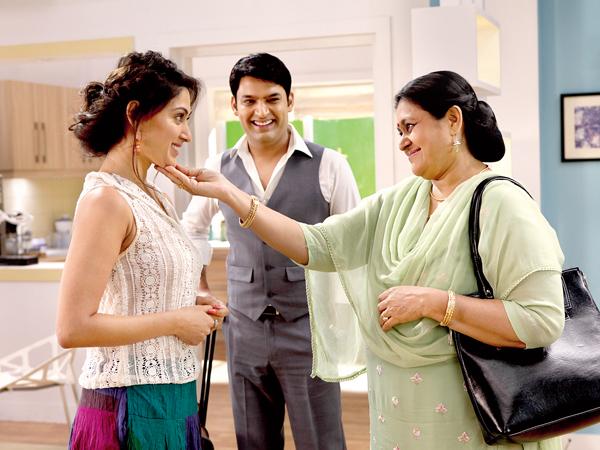 Story
Story of the movie is all about the messy situations in life of a man who has three wives.
Movie starts with Karan (Varun Sharma) who is lawyer by profession and also a childhood friend of Kumar Shiv Ram Krishan (Kapil Sharma). Karan narrated the past life of Kumar Shiv Ram Krishan (KSRK), how he accidentally got married with three girls in a short period of time. KSRK lives with his three wives- Simran (Simran Kaur Mundi) as Shiv, Anjali (Sai Lokur) as Ram & Juhi (Manjari Phandis) as Krishan. This is not over here, along with them he has one girl friend also named as Deepika (Elli Avram), who knows him as Kumar. In such a way, single man KSRK departed into four different men.
To know further- how KSRK manages his life with three wives & one girl friend, you must watch the movie. Because from here, the journey of laughter begins.
Dialogues
Kis Kisko Pyaar Karoon is integrated with lots of comic and some emotional sequences. Dialogues of the movie are very fresh and appropriate as per the situations.
Acting
All have performed their characters very well in the movie. It's a comedy drama and the lead star Kapil is already a master of that. Female lead Elli Avram is looking very hot as always and the supporting actor Varun Sharma better known as Chucha is superb.
Direction
Direction is done by the duo Abbas-Mustan and with no extra comment, it is simply perfect. Each & every scene is very well directed with proper percentage of acting and expressions.
Editing
Editing is done by Hussain Burmawalla and it is overall good. The visuals of the movie are not so fine, mostly while the song Samandar.
Music
Music of the movie is composed by Javed Mohsin, Amjad-Nadeem, Dr. Zeus & Tanishk Bagchi and it is just an average. Music is the weakest section of it and the reason behind deduction of one star.
Star Rating
Kis Kisko Pyaar Karoon gets 3 stars out of five [3/5]. One star deducted for the weak music, half star for visuals & half for Kapil's looks.
Why to watch: To spend happy hours with Kapil Sharma.
Why not to watch: If you are not in a mood to stretch your jaw.
Conclusion: It's a Paisa Vasool movie! Go & laugh out loud.