Mad About Dance Movie Wiki
Bollywood big screen is ready once again for some moves and grooves oriented film. Mad About Dance is the upcoming Bollywood Hindi film based on the dance and dancing passion. This movie has been directed by Saahil Prem, this is his third direction after hit film like Ragini MMS 2 and Produced by Cherub Gupta under the banners of Essel Visions Production PVT. Ltd. the film is an interesting content and youth oriented so most of the young generation is expected to love it.  Mad About Dance is a kind of tribute to the dancers and all those who have ultimate passion & love for dance world. Audience seems very excited for this movie. Let's look onto more interesting information regarding this film.
---
Mad About Dance Official Poster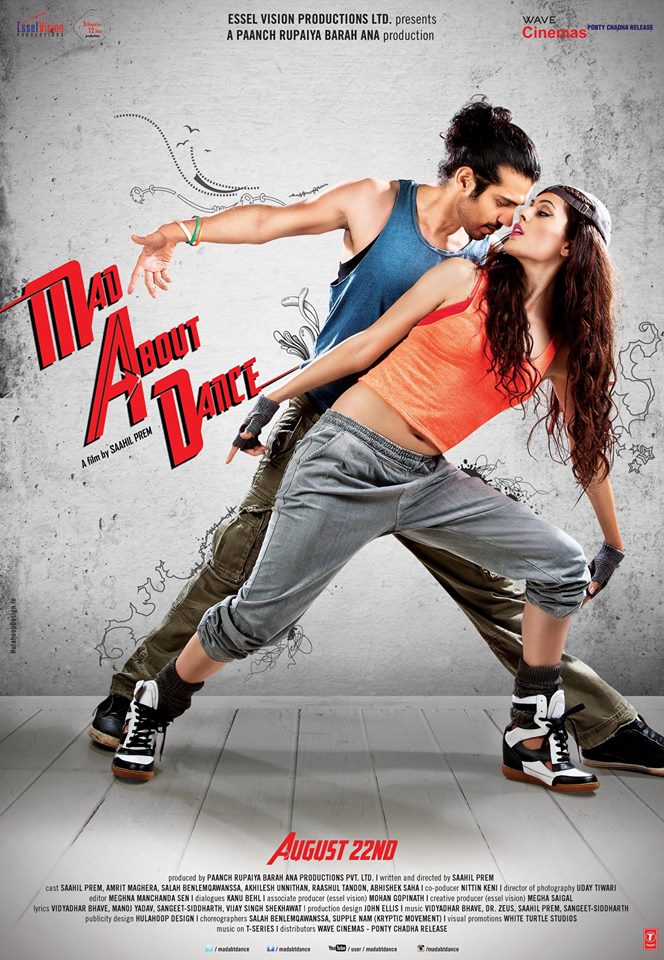 ---
Release Date
Mad About Dance is an upcoming Bollywood film which is all set to release this in the coming days. The film was still in its production phase little time back but now it has completed all its filming and the scheduled release date has been finalized.  Viewers are very eagerly waiting for this movie to get released so that they may get a good dose of entertainment by watching it. It will hit the theatres this month on 22 August 2014.
---
Star Cast
Mad About Dance movie is based on fan of dance and has got a totally new star cast as the main leads of the film. Although the characters are not too popular or familiar to the audience but still the acting and performance by them is quite good and suitable. The film features two main roles starring Amrit Maghera and Saahil Prem. There is supportive star cast present in the film. Below are the details about the detailed star cast of this film.
Detailed star cast of Mad About Dance are –
Amrit Maghera
Saahil Prem
Salah Benlemqawanssa
Akhilesh Unnithan
Raashul Tondan
and Abhishek Saha
---
Story
The film is totally related to the dance world and its lovers. The film makers take you into the world of the ebullient lead, who struggles to become successful in fulfilling the dream f becoming a dancer. What difficulties he faces in the journey, how he manages to fight for his dream and how his life is affected by all this are the points around which the full story of Mad About Dance revolves.
---
Music
Music of Mad About Dance is very good and all the songs have been released out. Music of Mad About Dance has been given under the labels of T-Series and being a dance and musical oriented film the choreography has been done by Del Mak.
---
Promotions
Though it is a small budget film but still it has got good face value and the promotion of the film are also running good due to the audience craze for dance and music nowadays. Online publicity through trailer and all have also resulted in favor of the film.
---
Mad About Dance Official Trailer
First official trailer was being awaited by many viewers and finally their wait has come to an end. The Official Trailer of Mad About Dance has been released few time back first on its official YouTube page. And they got more than thousand views within short time period of the release. After watching the trailer people are very excited to watch the movie. The story is about a movie fanatic and an inspiring dancer and youth generation bring mad about dance really looks excited for this movie.