Main Hoon (Part-Time) Killer Releasing Details
Main Hoon (Part-Time) Killer is an upcoming Bollywood movie set to hit the theaters on 22 May 2015. The movie is in hypes regarding South-Indian superstar Rajinikanth moving to Madras High Court to stop it's release as the film's earlier title Main Hoon Rajinikanth made him upset. Probably the most controversial film after Aamir Khan's PK, Main Hoon (Part-Time) Killer has been written and directed by Faisal Saif and produced by Mrs.Saroj. Dimension Pictures (India) headed by Liaquat Gola will be releasing the film worldwide.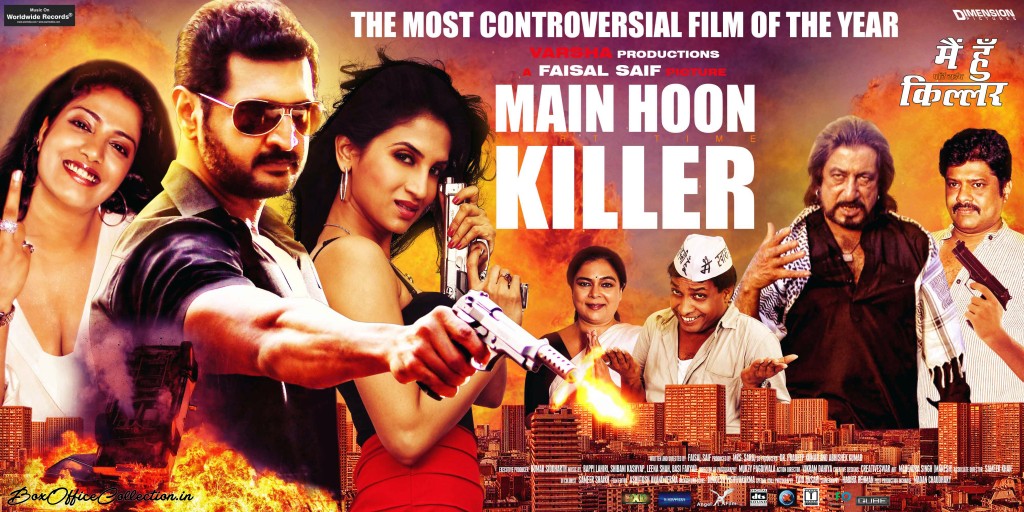 The film stars noted South-Indian villain Adithya Menon debuting in the role of Rajinikanth along with Kavita Radheshyam and ensemble cast of Smita Gondkar, Reema Lagoo, Ganesh Yadav, Sunil Pal and Shakti Kapoor.
The film is not a biopic on Rajinikanth but tells the story of a Stupid, Funny and Wicked C.B.I Officer-cum-Contract Killer Rajinikanth played by Adithya Menon who goes in for a 'Killing-Spree' undercover assignment from another Stupid, Funny and Wicked Millionaire Bachchan (Shakti Kapoor) to deliver 5 crores hard cash back to him which is captured by a corrupt cop Hariprasad Venkatesh Naidu (Shabbir Ali).
Things gets awry when Hariprasad Venkatesh Naidu dies suddenly while making love to his beloved sex-worker Mallika (Kavita Radheshyam). Mallika who also happens to be a die hard fan of South Indian superstar Rajinikanth, sees a golden opportunity to grab the Bag full of money and run away. Mallika waits for Train back to her village Bhanpur at Hanumangarh Railway Station where Rajinikanth comes in search for her with an intention to kill her and take back the money to where it belongs.
The music of the film is provided by Shibani Kashyap, Bappi Lahiri, Leena Shah, Basit Faryad and has three catchy numbers in the whole album.
Being not a much high cost and star rated movie, Main Hoon (Part-Time) Killer has not got any high promotion value but due to the controversy surrounded about the film as well as known faces in leads and comedy-spoof theme in hand, audience seems excited towards this movie too. Movie is being promoted on smaller basis on different platforms these days.