Starcast: Adithya Menon, Kavita Radheshyam, Smita Gondkar, Sunil Pal, Ganesh Yadav, Reema Lagoo, Shakti Kapoor
Directed by: Faisal Saif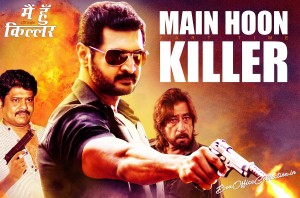 Let me start by assuring you, it doesn't really matter if you call this one
Main Hoon (Part-Time) Killer
/Main Hoon Killer or whatever! The film was and will always remain Main Hoon Rajinikanth! at least this is what the world knows from the day it was announced.
Is this a biopic on superstar Rajinikanth? No! is this related to superstar Rajinikanth? Hell, yes! Does this film insults superstar Rajinikanth? Hell, No! So why did superstar Rajinikanth went to the court to change it's title? Well, this what myself and i am sure you all will be trying to figure out once you watch it! To be honest, the film surely respects superstar Rajinikanth and allows him a Tribute for his immense dedication to South Cinema.
We have witnessed 'Illogical' comedies in the past, but this one is a 'Spoof' comedy which is stupidly funny and needs a heart to digest!
The story is very simple. A man who is a CBI Officer cum Contract Killer and he is unfortunately or fortunately named Rajinikanth. We read jokes on superstar Rajinikanth where we imagine him doing the unexpected things for the sake of our fun. Here a man is named Rajinikanth who cannot do 'One' proper job without creating trouble! This is what the comparison is I guess.
The man Rajinikanth (Adithya Menon) has been assigned with a job of getting 5 Crores rupees from a corrupt cop Naidu (Shabir Ali) and giving the money back to Mr.Bachchan (Shakti Kapoor). Rajinikanth has been ordered to kill Naidu in this process! Instead of killing Naidu, Rajinikanth kills every Tom, Dick and Harry just because he/she has seen his face. He meets a sex-worker Mallika (Kavita Radheshyam) and learns she is trying to escape with that 5 Crores!
Yes! you have all three of them in one film; Rajinikanth, Bachchan and Mallika who are irritating each other and that is what makes you laugh out to the core. Did I mention we also have another funny character Mr.Arvind (Sunil Pal) who wears a cap where "Main khaas aadmi hoon" (I am the Special Man) is written!?!
Speaking about the performances, Adithya Menon steals the show with his tailor-made role and his awesome expressions which will be remembered. Kavita Radheshyam proves she not only has a Hot body but talent too! She is however little bulky, but her comic timings are fabulous! After Andaz Apna Apna's crime-master Gogo, Shakti Kapoor's role in this movie will be remembered too! In fact, Shakti is another show stealer of the film! Sunil Pal is too good. Rest other actors are very good which includes Reema Lagoo with her own Spoof and the sleeping man on the railway platform (Sodhi Sultan) who is cute and funny at the same time.
Faisal Saif may not be an outstanding technician but he is surely the director who has made a good entertaining package which in the coming times will become a 'Cult'. The director claims he made this film merely in 80 Lacs, Which in today's time means nothing for Bollywood. But if this film really was made in this budget, Faisal deserves a pat! Yes, the film has flaws, but the funny entertainment grip makes you ignore them.
The camera work by Murzy Pagdiwala is simply outstanding. The film does not have a huge or a great Production Value because of the constrain budget, frankly speaking, this film don't need one.
Musically, the film has three nice songs which includes Bappi Lahiri's classic Mujhe naulakha mangaa de re!
After two back-to-back debacles by our superstar (Kochadaiyyaan and Lingaa), this Rajinikanth film deserves to be seen as Main Hoon (Part-Time) Killer is better than Rajini's Lingaa.