Review of Mohenjo Daro (2016)
Certification- U/A
Director- Ashutosh Gowariker
Starcast- Hrithik Roshan, Pooja Hegde, Kabir Bedi, Arunoday Singh & Sharad Kelkar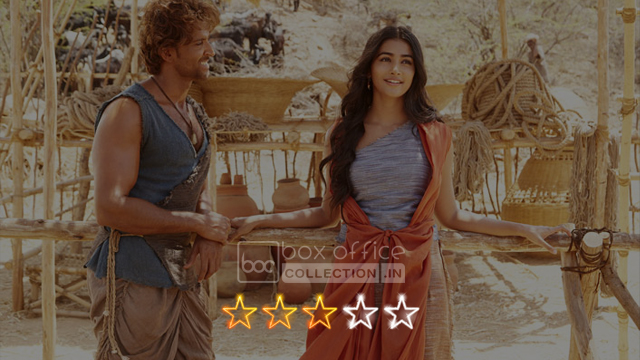 The second collaboration of ace director Ashutosh Gowariker and superstar Hrithik Roshan, Mohenjo Daro is interesting as expected, but the weak execution pulls it back. The film set in the era of Indus Valley Civilization and most of us are not much aware about its history. So being interested to know about it, is obvious but Mohenjo Daro tests the patience of audience.
It doesn't mean that Hrithik's this epic adventure is not enjoyable. You will enjoy the film, if you have enough patience or if you are fan of the star. Undoubtedly Hrithik has given mind blowing performance as an Indigo farmer, his energy keeps you stay till the end. Debutante Pooja Hegde who is playing as the leading lady, has justified her character brilliantly. Kabir Bedi and rest all the actors have also played their roles very well.
Director Ashutosh Gowariker has done his work flawlessly, also the cinematography is good. But the only spoiler it has, is weak editing which creates boredom at several sequences and the inferior CGI (Computer-Generated Imagery). Music of the Mohenjo Daro is composed by the legend A.R. Rahman but it doesn't strum the right string.
Overall Mohenjo Daro is not a must watch film but it is also not a skippable one. Definitely you won't feel disappointed after watching it but you need to have patience till the last.
'Mohenjo Daro' Report Card
Story- Good
Direction- Good
Screenplay- Average
Cinematography- Good
Dialogues- Good
Acting- Very Good
Action- Good
Music- Average
Overall- Good (3/5 Stars)