Review of Badrinath Ki Dulhania (2017)
Genre- Romantic & Comedy
Certificate- U/A
Director- Shashank Khaitan
Star Cast- Varun Dhawan & Alia Bhatt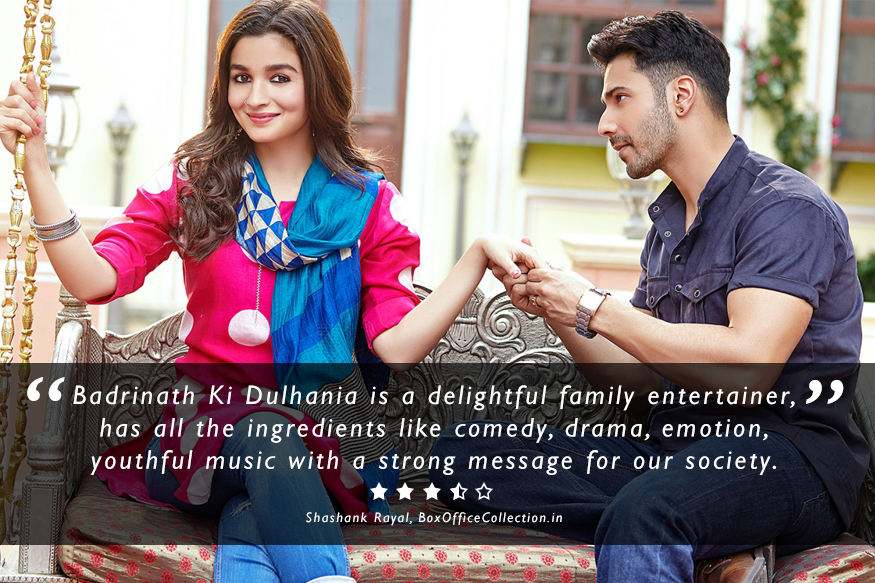 For the third time they are sharing space with each other and once again set magic on silver screen. Yes I am talking about Bollywood's very successful young stars Varun Dhawan and Alia Bhatt, who have showed beautiful chemistry between them in their third collaboration after 2012's Student of the Year and 2014's Humpty Sharma Ki Dulhania, Badrinath Ki Dulhania.
Producer Karan Johar's this romantic comedy is a delightful & clean family entertainer, which has all the ingredients like comedy, drama, emotion, youthful music and a strong message to our society. Along with a refreshing love story, it's a good take on feminism & gender equality which inspires & impresses a lot. 'Tum beta kyun banna chahti ho? tum beti hi kamaal ki ho!'.
Badrinath Ki Dulhania is not the typical love story of a guy & girl, but it is about how much values they give to each other in a relationship and this drags is out of the crowd. Talking about the performances of stars, then as always both have simply given heart winning performances. The comic timing of Varun Dhawan is superb and the emotion queen Alia Bhatt has once again proved her acting skills.
Director Shashank Khaitan has done his work very well, which has resulted in such a delightful movie. Screenplay, dialogues, music, editing etc. at all the aspects, Badrinath Ki Dulhania stands on a satisfied position. The only spoiler in the movie is it's casting, there are few characters which could have been played by better actors. Overall Varun-Alia starrer is paisa vasool movie which actually deserves your time.
'Badrinath Ki Dulhania' Final Verdict
Story- Very Good
Direction- Good
Screenplay- Good
Cinematography- Good
Editing- Good
Dialogues- Very Good
Acting- Excellent
Music- Good
Overall- Above Good (3.5/5 Stars)