Movie: Bajrangi Bhaijaan (U/A)
Cast: Salman Khan, Kareena Kapoor Khan, Nawazuddin Siddidui & Harshaali Malhotra
Director: Kabir Khan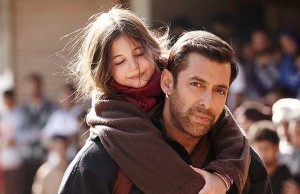 With great excitement, year's much awaited movie
Bajrangi Bhaijaan
has released out today on wide number of screens worldwide. As expected earlier the movie is getting excellent response from fans and audience which is obvious because it is featuring all favorite Salman Khan. When the stardom of Salman can make Ek Tha Tiger & Bodyguard kind of movies superhit then it is Bajrangi Bhaijaan, which is having any story. As everyone I was also very much desperate to watch Bajrangi Bhaijaan on the first day. I was expecting it as a power packed entertainer and yes Bajrangi Bhaijaan is a combo of romance, action, emotion, laugh but with boredom.
I found first half of the movie very slow, from second half the entry of Nawazuddin Siddiqui takes some interest in the movie. His performance is just mind blowing as always, his one dialogue still making me laugh "Tu phir boli begum?" & his speech in last to motivate people, is also good. Harshaali, a cute little girl who is playing the role of Munni is looking so innocent in the movie. She is the one who keeps the story alive till the end.
I am not biased, not even I am saying Bajrangi Bhaijaan is not tolerable. Ofcourse it is a good one, having good story, touchy climax and a social message too but still something that makes you feel satisfied is missing. I don't know why but I am disagree with other critics, that it is the best movie of Salman till date. I found his last release Kick more entertaining and better than Bajrangi Bhaijaan. This is the bitter truth, if the movie was featuring any one from newcomers in place of Salman then no critic would be in favor of it. One thing is also true about Bajrangi Bhaijaan, that if anyone liked it or not but Bollywood lovers will definitely watch it once and the movie is a sure shot blockbuster at box office.
Story
Bajrangi Bhaijaan is Indian drama movie based on a story of little Pakistani girl who lost in India then Bajrangi Bhaijaan aka Salman Khan takes responsibility to reunite her with her parents.
Movie starts from Zilla Sultanpur, Pakistan where a six years old girl (Munni aka Shahida) who is dumb by birth, lives with her parents. For the wellness of Shahida, her parents decides to take her Hazrat Nizamuddin Dargah, Delhi. Shahida's father was a former army man that is why he couldn't get visa, so her mother decides to take Shahida Delhi alone. While coming back to Pakistan from Delhi, at night near Indo-Pak border their train stops due to some repairing work of rail tracks. Everyone was sleeping, Shahida comes out of the train to help a kid (baby goat) who was stuck in a pit, but suddenly train starts moving and she lefts behind in India.
Then the little girl meets with Pawan Kumar Chaturvedi aka Bajrangi in Kurukshetra, who lives in Delhi in his uncle's house (Kareena Kapoor Khan aka Rasika is playing a role of his uncle's daughter, Rasika & Pawan loves each other). Pawan tries to help Shahida in finding her parents but as she is dumb so she can't be able to tell him what actually happened, Pawan calls her with name Munni. In starting Pawan do not know who is she but later he come to know that she is Muslim and from Pakistan. After making many efforts  in last when no option is left, Pawan decides to go Pakistan without visa to reunite Munni with her parents. In Pakistan he meets with Nawazuddin Siddiqui (Chand Nawab) who is playing a character of Pakistani reporter. From now, the movie gets interesting but to know further you should watch it.
Acting
Entire cast of the movie is justifying their characters very well. Especially the little girl Harshaali, she is just brilliant in her character of a dumb & innocent girl. Salman Khan performed very well in the movie but lack of punching dialogues left a corner unpainted. Kareena Kapoor Khan is having less appearance than Harshaali in the movie but she is looking promising. Nawazuddin Siddiqui is superb as always, he takes entry in the second half.
Direction
Direction is done by Kabir Khan, and it is very good. His direction skills clearly reflects in the performance of Harshaali & other actors in the movie.
Music
Music of Bajrangi Bhaijaan is given by well known music composer Pritam Chakraborty and it is just an above average. The movie is having total 6 tracks plus one promotional track out of which only two songs "Tu Jo Mila" & "Zindagi" enters in hearts of listeners. Rahat Fateh Ali Khan who has sung only the remix of song "Zindagi" could be used for any one from the main tracks.
Positive Point(s): Bajrangi Bhaijaan is having a good story which gives social message to spread peace among both countries India & Pakistan. Climax of the movie is really very touchy and emotional. "Bajrangi Bhaijaan is the most positive movie about the Pakistan" says Chairman of Pakistan Censor Board.
Negative Point(s): The editing of the movie is very weak, which has ruined its first half. The movie could be trimmed because its length makes its first half slow.
Conclusion: One time watch movie, but not skip-able. You should watch it for the cute little Harshaali. Don't go with a sack loaded with high expectations.

Sorry! Bajrangi Bhaijaan 😐