Movie: Brothers (2015)
Cast: Akshay Kumar, Sidharth Malhotra, Jacqueline Fernandez, Jackie Shroff & Shefali Shah.
Director: Karan Malhotra
'Brothers' the new Hindi action drama movie, released this week among good excitement of audience. It has received overall positive response from viewers across the globe on its opening day. 'Brothers' is an emotional story of dispersed blood relations and that is the reason everyone loved it. This is very sad to know, that some critics are not in favor of the movie and rated it with low stars. They are same who reviewed Drishyam as a flop movie but in actual it is one of the best movies of year 2015 and running smoothly at box office. I do not know why they guys are in efforts of defaming remakes but I am sure audience will give them answer.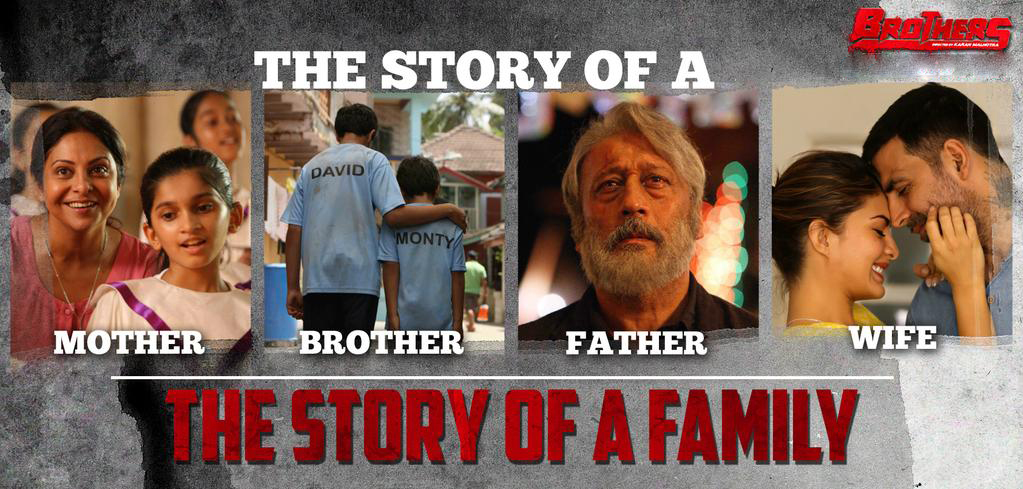 Yesterday I watched Brothers, which completely washed out all the pre assumptions I had in my mind after reading the reviews of some poor critics. I find it very touchy and very well directed movie which does not creates boredom in any sequence even after having a runtime of approx. 2 hours and 35 minutes. I must tell you its first half is better than the first half of Bajrangi Bhaijaan, director Karan Malhotra has integrated it with some small but interesting family emotions which keeps your eyes in one direction. Second half is a heavy dose of aggression and emotion, which left you with wet eyes at the end.
Watching the movie on first day is really very beneficial, because you can notice the excitement and reactions of audience which helps you while writing review.
Story
'Brothers' is an official remake of Hollywood movie Warrior and as the title, its a story of two estranged brothers (David and Monty) who hates each other because of an accident, that happened in their life and they lost their mother.
Movie starts with Garson Fernandes (Jackie Shroff) who gets freed from jail (he was charged with the murder of his wife) and comes back to his old house with his younger son Monty (Sidharth Malhotra). After coming home, Garson starts missing his wife Maria (Shefali Shah) who died because of him. Garson was a famous wrestler of India but his addiction of alcohol had ruined everything. Now he wants his son Monty to become tough fighter like him.
Mean while their flashback story appears
On the other side, Maria & Garson's elder son David (Akshay Kumar) who lives separate from his father and younger brother because of hatred. Earlier he was a street fighter but after falling in love with Jenny (Jacqueline Fernandez) he left fighting and started teaching Physics in a school. Now he is a married man, lives with his wife Jenny & a daughter. His daughter has kidney problem by birth and for her treatment he requires high amount. In his salary, he is not able to provide good treatment to his daughter and also can't let her die. So he decides to enter in street fighting again where he can earn good.
Now both (David & Monty) enters in street fighting where they comes to know, that wrestling has become legalize sport in India and its first tournament is taking place in Mumbai where famous International wrestlers are going to participate. Some how both gets entry in the tournament and after winning all the fights, qualifies for final. Now it is the climax and brothers are in opposite to each other. Monty is loaded with anger for his elder brother and David has to win this fight for the treatment of his daughter. To know who will win the fight, you should go and watch the movie.
Acting
Entire star cast in the movie has performed their roles very well, especially Akshay Kumar & Jackie Shroff. Our Bindas Bhidu just nailed it with his brilliant performance and Akshay is at his best as always. Sidharth Malhotra has completely justified with the character, his aggressive expressions are extremely good. Jacqueline is in a small role of Akshay's wife but looking adorable.
Action
Action sequences are very well shot and one of the strongest parts in the movie. Last 30 minutes are laced with full on fight scenes and you will definitely enjoy them. There is nothing which looks over or fake, actions are almost similar as we sees in wrestling and boxing.
Direction
Brothers is directed by Karan Malhotra, who was also directed Agneepath in year 2012. He has done his work very well, each and every scene of the movie is looking genuine. His great efforts can easily be seen in the performance of star cast.
Music
Music of the movie has been given by Ajay-Atul and no doubt it is very soulful. Brothers is having 5 tracks, out of which Brothers Anthem is a full power inspirational song. The next 3 songs Sapna Jahan, Gaaye Jaa (female) & Gaaye Jaa (male) are emotional songs and the last one Mera Naam Mary is an item number which is the weakest song of the movie among all five. But some critics liked it very much and reviewed rest all songs as very weak. Now you can judge the level of their criticism.
Star Rating
Brothers is truly a good movie and I will give it 3.5 stars out of 5. One star deducted by default as it is not a new story, its a remake and half star deducted because its length could be trimmed.
Why to watch: If you want to watch a quality movie and have spare time of 2 hours & 35 minutes to spend in theater, you should go for it.
Why not to watch: If you are a fan of masala movies, then please do not go because this is for sincere ones only.
Conclusion: Avoid biased reviews and go for it with family and friends.