'Housefull 3' is to Enjoy with Heart
Movie- Housefull 3 (2016)
Director- Farhad-Sajid
Star Cast- Akshay Kumar, Ritesh Deshmukh, Abhishek Bachchan, Jacqueline Fernandez, Nargis Fakhri, Lisa Haydon, Boman Irani, Chunkey Pandey & Jackie Shroff.

Year's biggest and much awaited comedy drama 'Housefull 3' has released out and stands well on the expectations. Yes story of the movie is not very effective but who cares about it when you are enjoying it thoroughly. It's a movie to enjoy with heart and grant your mind a time to relax. After a long spell of serious thriller & action movies, now this is the time to stretch your jaw with the third installment of India's very successful comedy franchise Housefull.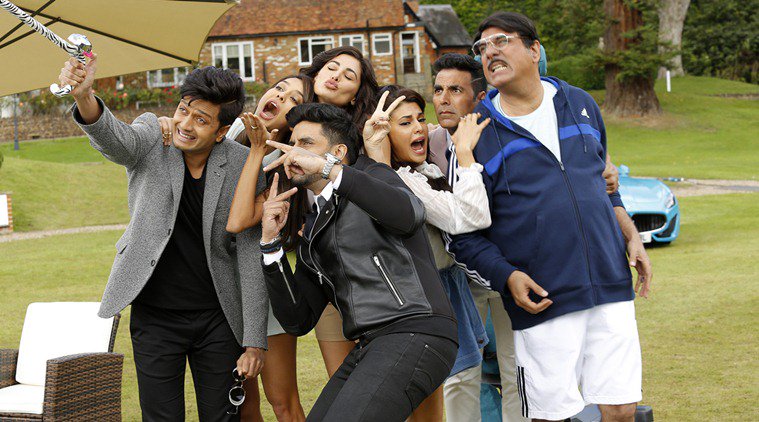 From the beginning to the end, Housefull 3 entertains you completely. Superstar Akshay Kumar is the main attraction of the movie. His coming timing and the charm of Jacqueline Fernandez attracts your more. Riteish Deshmukh is superb and Abhishek Bachchan is good in comedy, as we have already seen their work in past. Nargis Fakhri and Lisa Haydon add good glamour in the movie with Jacqueline. The rest Boman Irani, Chunkey Pandey & Jackie Shroff are renowned actors and have justified with their roles very well.
Story of the movie has already been cleared by its official trailer, Housefull 3 revolves around three guys (Akshay, Riteish & Abhishek) who try to convince a man (Boman Irani) that they are a perfect match for his daughters (Jacqueline, Nargis & Lisa). The laughter riot is loaded with good punches, which keep your eye-balls still. Music of the movie is very rocking and adds a good taste to it.
Overall, Housefull 3 tickles your funny bones and it's worth watch treat in this summer season. Surely, you will enjoy the movie and feel good after watching it. Second half is far better than the first one, so you will definitely come out from the theater with a happy mood.
Story: Average
Direction: Good
Screenplay: Good
Cinematography: Good
Acting: Very Good
Music: Good
Overall: Good (Gets 3/5 stars)