Jai Ho Democracy Movie Review
Director: Ranjit Kapoor.
Starcast: Annu Kapoor, Om Puri, Seema Biswas, Adil Hussain, Satish Kaushik and Aamir Bashir

The director of the film Jai Ho Democracy is Ranjit Kapoor (not to be confused by 'Aankhon Dekhi', 'Bheja Fry' Rajat Kapoor). Ranjit Kapoor is the same man behind Rishi Kapoor's long forgotten 'Chintu Ji' (2009). Chintu Ji is again a weird plot where Rishi Kapoor (who plays himself in the movie) wants to try his hands in Politics and takes a journey back to his root-village to gather few support!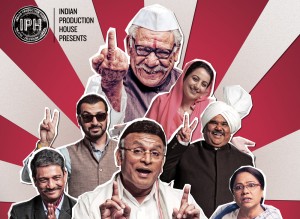 Here in Jai Ho Democracy, we again witness a weird plot where a hen enters in no man's land, across the LOC between India and Pakistan. A cook of the Indian army is forced to enter the forbidden land to claim that hen and guess what? Pakistani soldiers open fire objecting this move. The Indians demand that they should be allowed to retaliate.
Yes, you guessed it right! As usual, news channels cracks this up leading to a war like situation. Being scared by the media pressure, the government assigns a committee to look into the matter. The committee comprises chairman (Annu Kapoor) and other members of the parliament such as ex-servicemen and NGO workers (Om Puri, Satish Kaushik, Seema Biswas, Adil Hussain). However, these people are too busy fighting for their own needs and demands. In short, Their battle of life!
The Writer and the Director Ranjit Kapoor who has churned out wonderful films as writer in past such as Kabhi Haan Kabhi Naa, Tere Mere Sapne, The Legend Of Bhagat Singh, Halla Bol etc, Fails once again to deliver the 'So-Called' satirical comedy.
Performances? Yes you do witness some wonderful performances by all the polished actors here, But as far as the plot goes, You start to feel such amazing talent getting wasted! The film runs for a very short period of time. 1 Hour, 20 minutes maybe! Thankfully the film ends real fast here.
The Production Value is not up to the mark. The camera work is not that great to talk about. The music is just okay. The Editing is good. The only and only problem the film faces is the Story! After watching the film, I wish I could appreciate the efforts! I seriously wanted to watch this film especially for Ranjit Kapoor and the host of other talents. But after watching the film, I really feel very sad for the people associated with this effort!
I will not lose hopes on Ranjit Kapoor, but Jai Ho Democracy is surely another example of a good plot which goes nowhere! It begins with a Promise, but ends on a bad taste!