Jolly LLB 2 (2017) Review
Genre- Satirical, Comedy & Drama
Certificate- U/A
Director- Subhash Kapoor
Star cast- Akshay Kumar, Huma Qureshi, Annu Kapoor & Saurabh Shukla.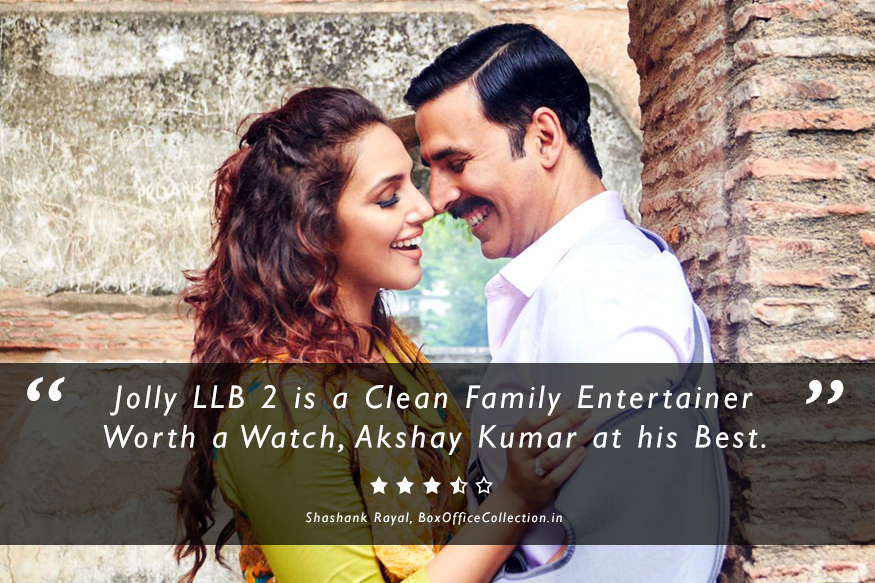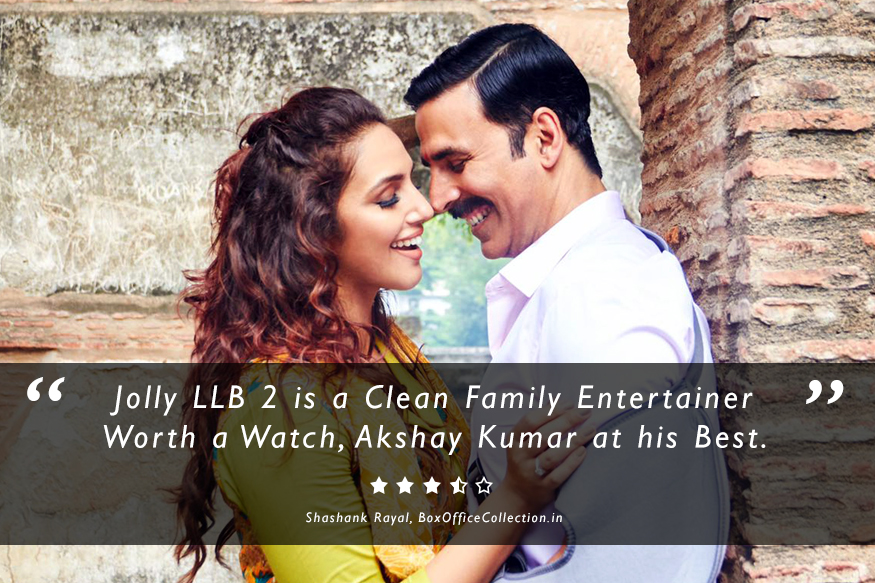 Once again superstar Akshay Kumar has proved his versatility with the recent offering Jolly LLB 2 written by Subhash Kapoor, which is a satirical comedy drama and the second installment of franchise Jolly LLB. The actor has given one of his best performances in it, which draws your attention till the end. His body language as well as accent, completely justify the character of a struggling but smart lawyer of Kanpur, Uttar Pradesh.
Veteran actors Annu Kapoor & Saurabh Shukla also add good flavor to the movie with their wonderful performances. The argument between these two and Akshay in the second half, makes Jolly LLB 2 the best courtroom Indian drama so far. Leading lady Huma Qureshi adds charm as always and sincerely played her role of Akshay's wife. Shayani Gupta has a small role, but leaves good impact over audience in those few minutes.
Coming to the direction of Subhash Kapoor, then again Jolly LLB 2 stands on top. Kapoor has perfectly crafted a serious incident in an entertaining, satirical & a logical manner. He has also written the screenplay & dialogues of the movie, which are very good. Music of the movie is composed by Manj Musik, Meet Bros & Chirantan Bhatt, which is not very good but average with one beautiful song 'Bawara Mann' by Jubin Nautiyal & Neeti Mohan.
As previous movie of the franchise, story of Jolly LLB 2 follows the same track 'Jolly against injustice', but this time it is presented with more humor on higher scale by Fox Star Studios. The only thing, which pulls the movie back is its editing. Despite being perfect in runtime of 2hr 18min., it creates boredom at some sequences in the first half. Also the quick transitions make the condition of mood swing. But overall Jolly LLB 2 is a clean family entertainer worth a watch, which can be enjoyed thoroughly. So, Go for it!
'Jolly LLB 2' Final Report
Story- Good
Direction- Very Good
Screenplay- Very Good
Cinematography- Very Good
Editing- OK
Dialogues- Very Good
Acting- Outstanding
Action- N/A
Music- Average
Overall- Above Good (3.5/5 Stars)