Kaagaz Ke Fools Movie Review
Director: Anil Kumar Chaudhury
Starcast: Vinay Pathak, Mughdha Godse, Saurabh Shukla and Raima Sen

Alright, now it's a time for yet-another Vinay Pathak lead movie with some cast who desperately wants to show the world that "we" are better than all the regular masala Bollywood and we have our own (un-noticed) territory! Really? Guys! Just because one 'Bheja Fry' or one 'Phas Gaye Re Obama' is appreciated, this doesn't mean that viewers are dying to watch all the craps you try to churn out.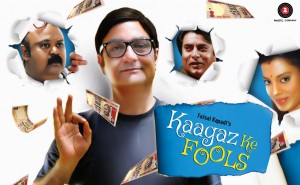 Bollywood still and will always rule with normal 'Masala' stuff which can never-ever be dominated.
Here! in such (medium budgeted) films, you see actors like Vinay Pathak and Mughdha Godse playing the 'Lead' part. But if you see a regular "Bollywood-Masala" films, you will be surprised to see the same actors playing character roles. Now this statement of mine also don't mean that actors like Vinay Pathak, Saurabh Shukla are bad actors. No! They are terrific actors! but film makers like Anil Kumar Chaudhury's and Faisal Kapadi's… kindly stop creating another 'Bheja Fry'… it is seriously not working, guys!
If you think this film gives you a unique story/plot? well here it is… Purushotam (Vinay Pathak) wants desperately his novel to get published. He is a good husband, but also an unambitious common man whose life takes a dramatic turn later. His wife Nikki (Mugdha Godse) is a nagging housewife, constantly pestering her husband to be more successful like his friends or like their neighbour.
Tired of the fights that flare up at home every night, Purushotam walks out of the house to get himself a drink, but lands himself at a bar called Kukuji's Aashram where he not only finds alcohol, but a hidden gambler's streak and a prostitute (Raima Sen).
Performances? Yes, Vinay Pathak is a terrific actor and he has done his best. Personally speaking, I think somewhere he himself knew this boring film won't work! Mughdha Godse is really Bad in the film. Why? She uses Marathi accent while playing a Punjabi chic! Again, director's fault.. Wrong casting! Saurabh Shukla is awesome, no doubt. Raima Sen looks like she was sleeping while performing her part! Raima! If you are playing a Hot sex worker, I am sorry but you are "not" hot.
The Production Value is shabby. Camera work is okay. Editing is another torture of the film!
Please trust me and skip this Kaagaz Ke Fools as this is an insulting title to the yesteryear's classic! Also go ahead and "Warn" your friends about not watching this movie. The movie literally fools you to the core!