Makad Jaala – A Political Trap Movie Review
Starcast: Amit Pundir, Ashmita Bakshi, Ananya Chaudhary, Mushtaq Khan.
Directed by: Dinesh Kumar Sahu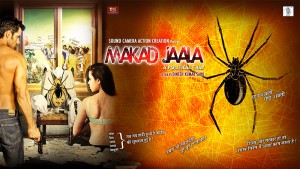 Friends! Believe me, after making one such pathetic film
Makad Jaala-The Political Trap
, film maker Dinesh Kumar Sahu had the "Guts" to organize the movie's Press Preview two days prior to it's release. Kindly also note: The preview did "Not" had an intermission, despite of showing intermission credits on the screen.
Why did I need an "Intermission"? So that I could run away from the Cinema. I was locked! I was scared! I was tortured and tormented! Because I was watching this film.
Makad Jaala (dares) to tell a story about two college going friends who joins two Political gangsters for money and fame. Those two political gangsters (One of them played by Dinesh Kumar Sahu himself) misuses them both and makes them each others enemy. In the on going rivalry, the main protagonists girlfriend Neha (Ashmita Bakshi) dies! And the film suddenly becomes a whodunit thriller!
Performances by all the main actors are so bad that you literally end up laughing. It looks like all the actors are yet another dreamers who wants to make it big and doesn't know anything about acting.
The music is another irritating factor of the film. Did I mention there is an item number in the film which is performed by an expressionless bulky lady?
The camera work, production value and editing is terrible! The film shows the the cars with the number plate of North India. The film according to the script is based in North India, but the actors accents and Billboards in the film portrays Gujarat! This was really funny!
One particular scene where the maker shows college filled with students is repeated in the film umpteen number of times.
I have my set of unanswered questions here again: From where did director Dinesh Kumar Sahu learnt Film making? Who finances such films? Why such films are still being made? From where does these actors graduate? And last but not the least, what was controversial film maker Faisal Saif doing in the film's press preview?
I know it's very hard to save yourself from disasters like Tsunami! But it's also very tough to save yourself from Makad Jaala- The Political Trap as this one is the 'Master Piece' from the list of crap movies.