Movie: Manjhi- The Mountain Man (2015)
Cast: Nawazuddin Siddiqui & Radhika Apte
Director: Ketan Mehta
'Manjhi' the latest biographical movie based on the life of Mountain Man Dashrath Manjhi, has been released on box office today with huge excitement of audience. The super positive waves of Manjhi are blowing on box office from the time when its official trailer was released out. As everyone, I was also very much eager to watch it; yesterday I watched the movie and find it equally interesting as Bhaag Milkha Bhaag & Mary Kom. Biographies are always inspiring and along with it Manjhi projects a true love story of Dashrath & his wife Phagunia.
It is not easy to fit the story of years in around 2 hours but the director Ketan Mehta has done this very well. Manjhi is very inspiring and motivational love story that shows everything is possible when your desire is strong.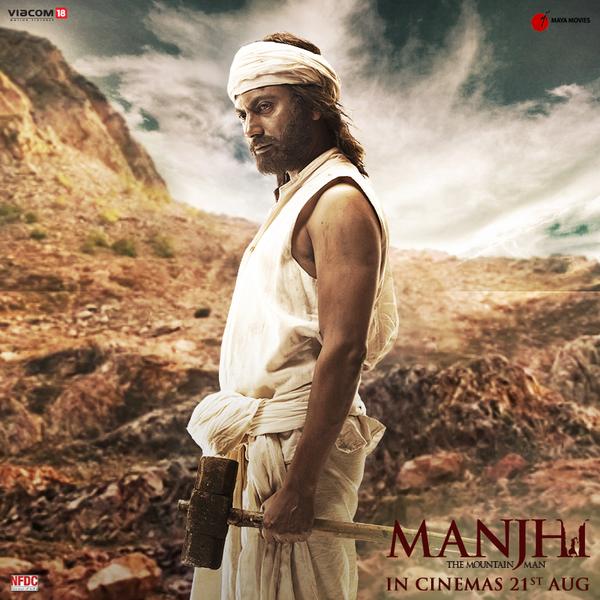 Story
Story of the movie Manjhi is based on the life of Dashrath Manjhi widely known as 'The Mountain Man' a poor labourer of Gehlour village near district Gaya in Bihar, who carved a path through the mountain in revenge of his wife's death.
Movie starts with the year 1960 when Dashrath Manjhi started breaking the mountain in revenge of his wife's death. After the struggle of 22 years he carved a path through the mountain using just a hammer and chisel.
Mean while flashback of his past life appears, that makes clear why he is breaking mountain.
Dashrath Manjhi (Nawazuddin Siddiqui), a guy belongs to a low class poor family of Gehlour village. He was got married in childhood with a girl Phagunia (Radhika Apte). His father was borrowed money from the chieftain of village but not able to return it back, so he decided to mortgaged his son Dashrath. But Dashrath escaped from the village and started working in coal mines of Dhanbad.
After seven years when he returned back to his village he found everything was same as before. There he met with a girl and fall in love with her at first sight, later he came to know that she was the same girl he got married in childhood. He wanted to take Phagunia home but her father denied as Dashrath was unemployed now. Any how he took his wife with her and started living happily.
After almost 4 years, an accident happened to their life which ruined everything. His wife Phagunia died by falling from the mountain, when she was taking food for Dashrath at noon time to the village Wazirganj that was on the other side of mountain. This accident made Dashrath to cut a path through the mountain so that no one else will die like this. His struggle easily reflects his immense love for his wife.
Acting
Nawazuddin Siddiqui is playing the character of Dashrath Manjhi, and no doubt he is at his best as always. His acting skills is one the main reasons behind such good pre-release buzz of the movie. Opposite to him Radhika Apte is playing the character of his wife Phagunia and she has also performed brilliantly.
Direction
Ketan Mehta has directed the movie and has done his work superbly. As I said above, it is not easy to fit the story of years in a slot of around 2 hours. He successfully made the biography of Dashrath Manjhi very interesting.
Music
Music in the movie is just an average, but there is no need of it so we can take it as complimentary. There is only 3 tracks composed by Sandesh Shandilya & Hitesh Sonik.
Why to watch: Manjhi is very inspiring and motivational love story and if you are a fan of good movies, you should watch it.
Why not to watch: There is only one reason, that editing of the movie is very complex; integrated with a loop of flashbacks.
Conclusion: Do not miss such good movie, just go and watch the new story of true love.