Review of M.S.Dhoni The Untold Story (2016)
Genre- Sports, Biopic
Certification- U
Director- Neeraj Pandey
Starcast- Sushant Singh Rajput, Kiara Advani, Disha Patani, Anupam Kher, Bhumika Chawla, Rajesh Sharma, Kumud Mishra, Herry Tangri etc.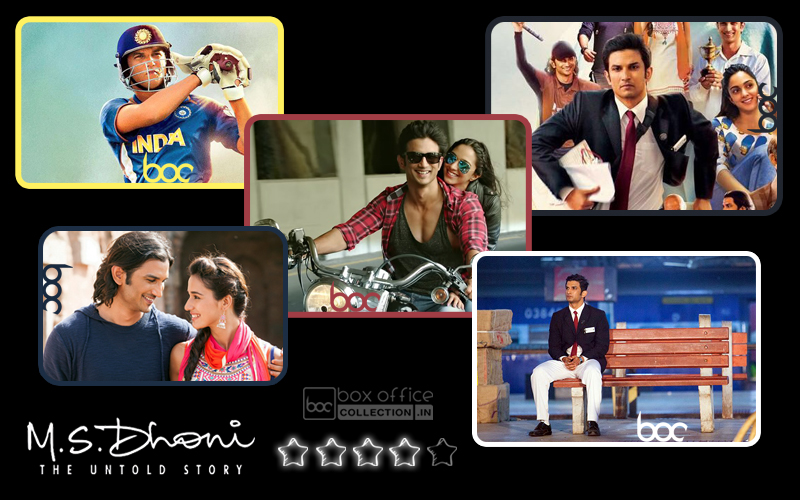 There is no doubt that M.S.Dhoni The Untold Story is the most awaited sports biopic of Indian cinema so far and yes! it deserves to be this. Each & every sequence of the movie pulls your emotions out. It inspires, gives goosebumps and makes you smile through out.
The journey of captain cool from Ranchi to the height where he is today, is really very inspiring. The Bollywood touch given to his chemistry with ex-girlfriend and wife, is very beautiful. Indian victories in cricket matches are from the past but still those footage make you feel highly excited.
Talking about the performances of actors, then M.S.Dhoni The Untold Story stands on the peak. Sushant Singh Rajput has played the title role flawlessly, the way he observed Dhoni is beyond brilliance. Female lead Disha Patani as Dhoni's ex-girlfriend Priyanka and Kiara Advani as Dhoni's wife Sakshi, both have played their characters beautifully and their presence on screen is very delightful.
In supporting characters, the movie features Anupam Kher as Dhoni's father Paan Singh Dhoni, Bhumika Chawla as Dhoni's elder sister Jayanti, Rajesh Sharma as his cricket coach in school, Kumud Mishra, Herry Tangri as Yuvraj Singh in teen-age & more. All of them have justified their characters sincerely.
Direction of Neeraj Pandey is superb, he is known for thrillers but with M.S.Dhoni The Untold Story he has showed his master skills. Casting of the movie is appreciable, all actors look best for their roles. Music is pleasant and adds a good flavor to it. Screenplay is also good but the runtime is quite long; more than 3 hours. It could be less by half an hour if makers showed concern.
M.S.Dhoni The Untold Story starts from the final match 2011's cricket world cup (India vs Sri Lanka), where is Dhoni is getting ready to bat next. Then the movie goes in flashback to his birth. First half shows Dhoni's childhood and his struggle to get selected in team India. Second half shows his love life and journey after being successful. In last 15 minutes, story again gets connected to the same 2011's world cup and ends with India's victory.
So the final words are, M.S.Dhoni The Untold Story is must and worth watch movie. It truly deserves your time and you can watch it with family & friends. Go & watch it to relive Indian victories and to know how world's best finisher has started his journey.
'M.S.Dhoni The Untold Story' Score Card
Story- Very Good
Direction- Excellent
Screenplay- Good
Dialogues- Good
Acting- Out Standing
Action- N/A
Music- Very Good
Overall- Very Good (4/5 Stars)