[Total:

17

Average:

3.4

/5]
Director: Mani Ratnam
Cast: Dilquer Salman, Nithya Menon, Leela Samson, Prakash Raj

The ace Film maker Mani Ratnam might have some rough years after Alaipayuthey (2000) but that doesn't mean he has lost his cinematic magic. After Alaipayuthey, Mani just had one big hit and it was Guru (2007).
And now it's time for a film (from this Genius) which will stay with the youth and with people of all ages for very long!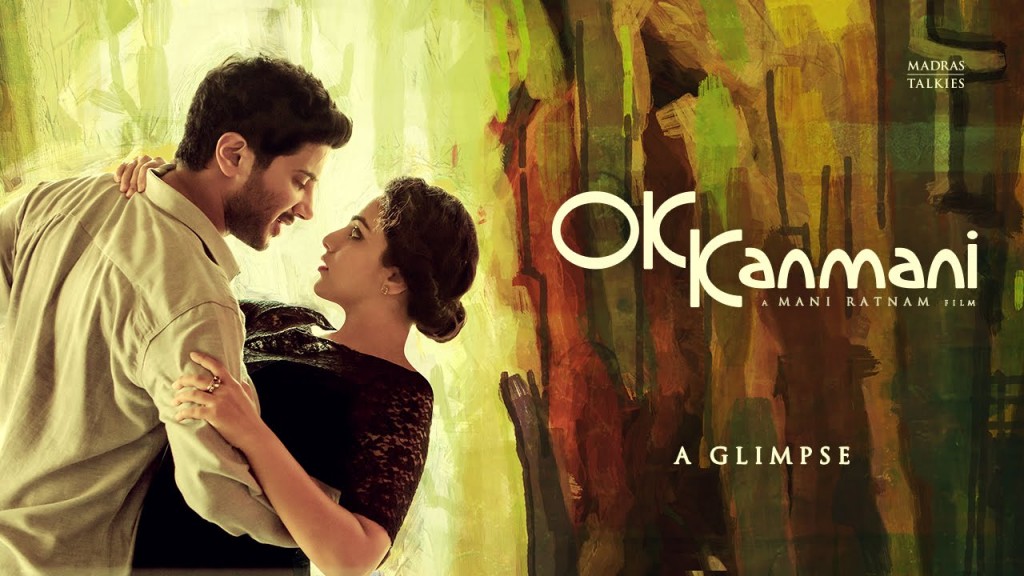 Ok Kanmani (O Kadhal Kanmani) is not Alaipayuthey, but it's still Alaipayuthey! The film talks about youth and their Romance, but it surely doesn't forget our elders too. We have been talking so much about the Live-In relationships, But Ok Kanmani goes much beyond it! It talks about Love. It talks about Culture. No! It does not talk vulgarity! It does not talk Sex or Double meanings! But it does talks about Respect!
The opening scene where the Director (with his work) speaks that you are about to watch "A Mani Ratnam Film":
A train is stopped on Chatrapathi Shivaji Terminus (Mumbai) and the lead actor Adi (Dilquer Salman) get's down with his dreams. He sees the lead actress Tara (Nithya Menon) on the other platform fighting and threatening his boyfriend "If you are not getting married to me, I will jump and end my life." Adi screams at her and tries to stop her. They both looks at each other! Love blossoms!
That was just 7 minutes of the film. I seriously don't want to spoil your charm by revealing what happens later. I seriously recommend you to watch the film. But please don't watch it alone. Else, you will miss your partner. Watch the film with your loved ones!
Performances are another plus point of this movie. Dilquer Salman is Malayalam cinema's superstar Mammooty's son (For those who don't know). He sounds very much like his father but he is amazingly talented. No one else could have performed Adi like he did. I read somewhere this role was first offered to Telugu actor Ram Charan Teja (Chiranjeevi's son). Nithya Menon is another super talented actor who performs the part of Tara with midas touch. Prakash Raj as Ganapathy is just awesome. The surprise packet is Leela Samson who performs Bhavani (Ganapathy's wife). Leela is very very cute and you would surely take her home. Rest other cast are good actors.
Musically, A.R. Rahman is wonderful. The camera work by P.C. Sreeram is another magic in the film. Editing is little draggy at few places. Easily 15 to 20 minutes of the movie can be trimmed if the maker wants. The Production Value is good, in fact very good.
I was actually "Tired" of watching Delhi in every other Hindi film, Trust me. Ok Kanmani (which is "Not" a Hindi film) is fully shot in Mumbai and Ahmedabad. And i swear, no one showed me Mumbai so Erotic and Romantic like Mani Ratnam and P.C. Sreeram did! Hats off!
Go watch Ok Kanmani. This film will make you Fall in Love…Respect your Love and Understand your Love as well.
OK Kanmani First Day Collection Report >>  Read Here