Starcast: Amitabh Bachchan, Irrfan Khan, Deepika Padukone, Raghubir Yadav & Moushmi Chatterji
Directed by: Shoojit Sircar

Even Elvis Presley died of constipation, they found him in the bathroom. Who knows if he was on the toilet seat? These are the words of Bhasker Banerjee (Amitabh Bachchan) from the movie Piku where this time Shoojit Sircar bring Bowel Movements to tell a story.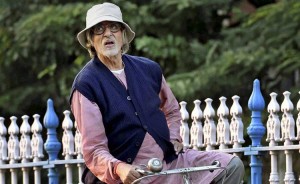 Bhaskar suffers from constipation which is more in his head than in his body. He drives her daughter Piku (Deepika Padukone) mad with all his bodily concerns. A frustrated Piku vents out all her anger on the driver of the taxi which takes her to and fro her office hired by the company.
Everyday the taxi reaches its spot badly destroyed. The taxi rental service is manned by Rana Chaudhury (Irrfan Khan) who tries to make Piku understand the ills of rushing his driver but she is determined.
None of the drivers agree to take them to Kolkata next when Bhaskar decides to go to his ancestral home after a life-threatening medical situation. Rana is forced to take them to Kolkata by road since Bhaskar insists he wouldn't go by train or plane; and a journey of Love and Emotions begin!
Performances of Amitabh Bachchan, Deepika Padukone, Irrfan and other actors are at top notch. Every character will make you believe that they are not acting, but living their respective character. Look out for Irrfan and Deepika's mesmerizing chemistry! The punches in the dialogues are hilarious. I think Deepika perhaps have landed the best role of her career with this film.
The camera work, production value and editing too plays a wonderful game in this story! You normally do not expect a Music Strong film here. Shoojit Sircar according to me has mainly targeted Bengali people since he himself is a Bengali. But still manages to bring a film which touches your heart and come out smiling.
On a serious note, this weekend, it will be a sin not to catch up with Piku and her Baba's shitty problems as Piku Motions will make you forget your Emotions!