Piku Releasing on 8th May 2015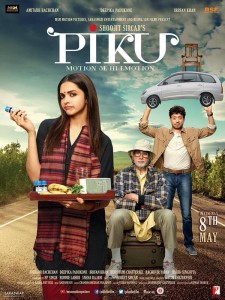 Piku which is in good media buzz from pretty long time is an upcoming Hindi language comedy drama film based on a daughter-father relationship. The movie has been directed known name Shoojit Sircar & produced by Ronnie Lahiri under the banners of MSM Motion Pictures, Saraswati Entertainment Creations Limited and Rising Sun Films. The film will be a pack of entertainment and laughter for all the comedy fans.
There are many famed names associated with this movie like Amitabh Bachchan & Deepika Padukone playing lead roles along with Irrfan Khan, Moushumi Chatterjee and Jishu Sengupta and audience will surely be delighted by watching this film and their favorable stars in it.
Story & Music
The story of movie is inspired with slice of life where audience will experience a new chemistry of Irrfan & Deepika for first time. It is a basically father-daughter relationship based comedy drama movie along with many emotions and laughing dose in it.
Anupam Roy has given the music for Piku.
Budget & Release Date
The scheduled date of release for the film has been set up for May 8, 2015 countrywide. Budget of the film has not been clearly mentioned anywhere but as the estimates suggests the anticipated cost of the movie is being said to be good enough as starring all famous names in the leads. Being shot in different locations in India like Kolkata, Mumbai & Delhi; the location cost might have reduced the overall budget of shooting outdoor. Anyhow it is a mid budget movie with good number of screens to release.
Promotions
Due to well known names associated with the movie obviously the promotions are going to be on high note and also the audience will be seen interested owing to Amitabh Bachchan & Deepika with Irrfan & Moushami in the film. Also it is a good budget movie so promotion cost is also nice hence much better publicity and enhanced results.
Trailer
First official Trailer of Piku was released 2 days ago on 25 March 2015 at 9 pm and got positive response from audience. Trailer is really looking very promising and it is expected that the movie will get good response at box office after release.