Raees (2017) Review
Genre- Crime, Action & Thriller
Certificate- U/A
Director- Rahul Dholakia
Star cast- Shahrukh Khan, Nawazuddin Siddiqui & Mahira Khan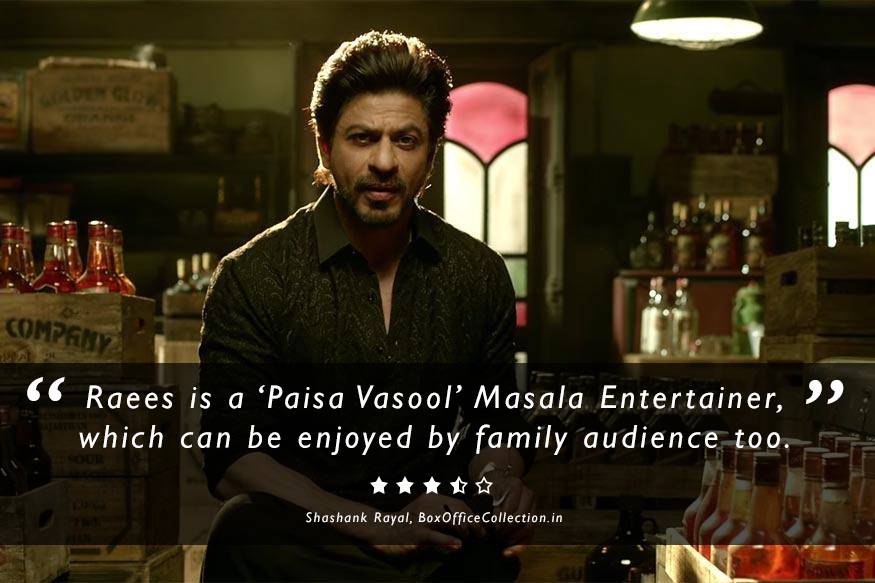 Finally after a good time, superstar Shahrukh Khan has offered a movie, which lives up to the expectations. With enormous hype, Raees has been released this week & running successfully. The movie has all the ingredients, which are required for a perfect masala entertainer. Earlier it was said to be based on the life of criminal Abdul Latif but in actual it is a pure work of fiction with a typical Bollywood touch.
Story of Raees is about a man named Raees 'Shahrukh Khan', set in early 1980-1990's Gujarat, India. It explores how he build an empire for himself from scratch and became the most powerful person in the entire state. His persona is like a gangster but with a kind heart. Raees eliminates everyone who tries to stop him. Then a strict & honest police officer Majmudar 'Nawazuddin Siddiqui' enters in his life to destroy him. What happens next is predictable but enjoyable too.
Talking about the performance, then Raees stand on top. Both Shahrukh & Nawazuddin are known for their acting skills and have performed brilliantly in the movie as always. Pakistani actress Mahira Khan who played the role of Raees' wife, has completely justified with her character and looking very charming.
Music by Ram Sampath is not very much impressive but good and can be considered as one of the crucial elements in the movie like brilliant acting, burly dialogues & sincere direction, which make it 'paisa vasool' & 'whistle podu'. At all the technical aspects, Raees stands up to the satisfactory level. Overall SRK's latest offering is a must watch movie for Bollywood lovers. The best thing is, it can be enjoyed by family audience too.
'Raees' Final Report
Story- Good
Direction- Very Good
Screenplay- Good
Cinematography- Very Good
Editing- OK
Dialogues- Excellent
Acting- Outstanding
Action- Good
Music- Good
Overall- Above Good (3.5/5 Stars)