Mardaani Movie Wiki
Directed by Pradeep Sarkar and produced by Aditya Chopra, upcoming Bollywood film Mardaani is going to release on box office in the coming time. The film is an action cum crime genre and based on the criminal activities and current condition of the country regarding the human trafficking. Mardaani is a strong scripted movie supported by renowned star cast in the lead role. The film is expected to get a good response from the audience as it describes the real world and its situations. It is a Hindi language film and has been made under Yash Raj Films Banner movie.
---
Mardaan Official Poster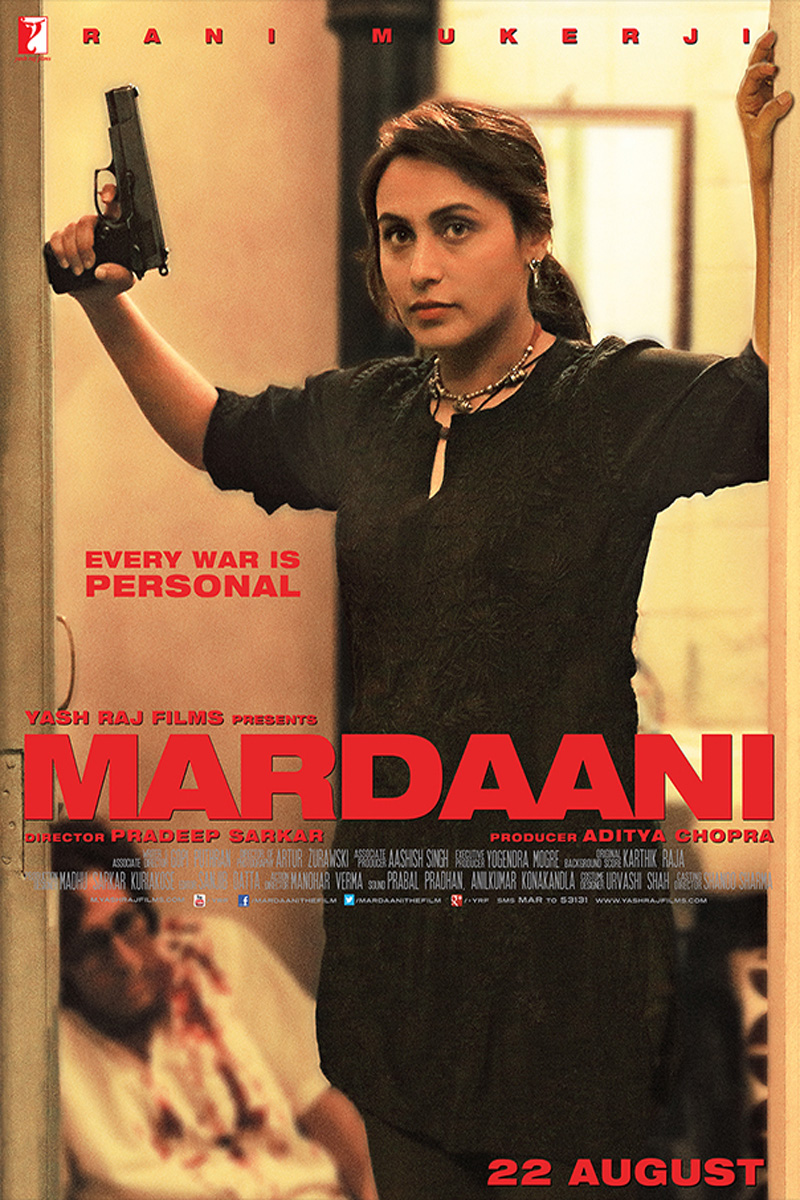 ---
Release Date
As per the reports and info from the sources received, this action cum drama flick will be releasing in later middle of next month. Mardaani is set to hit the theatres on 22 August 2014 according to the sources.
---
Star Cast
Star cast of Mardaani is quite talented and familiar to most of the viewers. Lead role in the film is being played by the dusky Bollywood beauty Rani Mukerji. She is playing the character of a rough tough cop in this film. There are other important roles in the movies being played by the below detailed actors-
Here is the star cast of Mardaani movie-
Rani Mukerji as Shivani Shivaji Roy
Jisshu Sengupta as Dr. Bikram Roy
Tahir Bhasin as Walt
Priyanka Sharma as Pyari
Akhilesh Verma as Police
Vikrant Koul as Inspector Mathur
---
Story
Mardaani film tells the story of a female cop whose interest in the case of a kidnapped teenage girl leads her to uncover secrets of human trafficking by the India mafia. It revolves all around such cases and ongoing criminal activities in our country relating to this issue. It is about a very Strict and Rough Mumbai Police Officer in Crime Branch and comes to handle the case of human trafficking this time going with girls and what situations does she pass through and all the difficulties she faces is the pivoting point of the story of Mardaani. Rani Mukerji has excelled in characters she essayed on big screen and now she is all set to play a cop in her upcoming film "Mardaani". Everyone will love Rani in this new and bold avatar.
---
Music
Music of Mardaani has been given by Shantanu Moitra and the background score has been done by Karthik Raja. Music of Mardaani is not the typical romantic or entertaining types instead it is suitable to its title and audience will surely like it.
---
Promotions
Being a Yash Raj Films production, the film has already so much class to it that and along with Rani in the lead role, we do not need much publicity to the film as we all have seen her in many super hit films previously. Nowadays Rani is being seen on different platforms promoting her upcoming film Mardaani and audience attitude towards the promotion is also positive.
---
Mardaani Official Trailer
First official trailer of Mardaani has been already launched two months back on 24 June 2014. People have liked the content as shown in the trailers also the trailers revived much publicity due to censor board controversy relating to it. The Central Board of Film Certification has insisted on censoring scenes from the trailer, including the use of a curse word and a scene depicting rape of a teenage girl.