Riyasat Movie Wiki
Riyasat is the upcoming Bollywood movie f other super star Rajesh Khanna who died before. This is his last movie and was in controversies due to no buyer of the rights. Riyasat movie (2014) is a perfect blend of drama and action to picture the social issue of perking up the evil and mess in the society to disturb the peace. Riyasat movie (2014) is a great aid to ponder over the solutions and resolutions of this issue. Riyasat (2014) has been directed by Ashok Tyagi and produced by Vijay Sirohi and Diwaker Singhal has produced this movie mutually. Vijay Sirohi Productions are presenting it.
---
Riyasat Movie Poster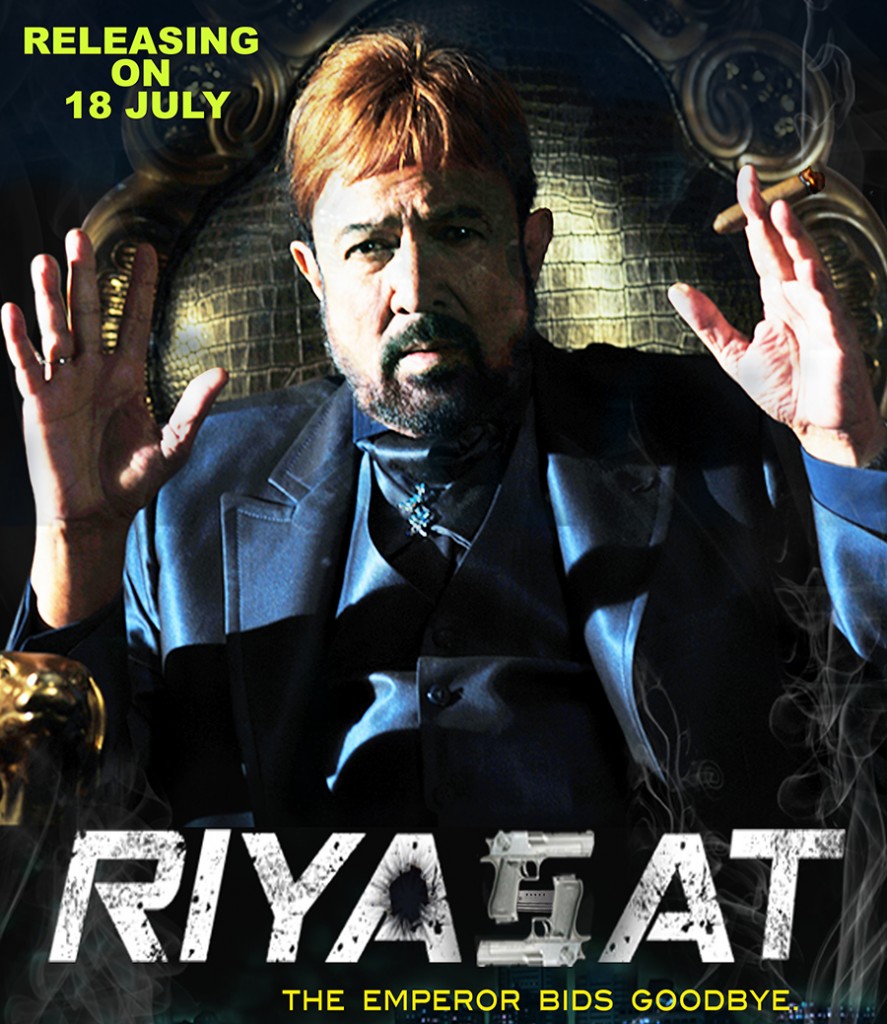 ---
Release Date
Riyasat is the latest film of the super star Rajesh Khanna and it is his last movie. Though he has died but he had done this movie when he was alive and now after much effort and issues this film is finally set to release this Friday. So the scheduled release date of Rajesh Khanna's last movie Riyasat is 18 July as per now.
---
Star Cast
Star cast of Riyasat is very famous and established one in the old Hindi film industry times. Film has got the blockbuster superstar Rajesh Khanna in it in the lead role playing a powerful character. It has also other supportive and main star cast in it as mentioned below.
Film has a very multiple star cast including many actors in supportive and main roles.
Detailed Star Casts of Riyasat is –
Rajesh Khanna as Saheb
Gauri Kulkarni
Aryeman Ramsay as Vijay
Raza Murad as Minister
Aryan Vaid as Shakti
Vishwajeet Pradhan as Sandeep Marva
---
Story of Riyasat
As we know that old movies were very good at script and messages so this movie Riyasat is all about dealing with the people having bad intentions and evil interests. Everyone shall watch this movie not only because you can watch your favorite Rajesh Khanna late in it but also for the nice message folded in this movie. Riyasat (2014) is an interesting story set between the good and bad. It is a playful action movie will rock your passion and energy. It is a story about a ruler who comes across to a situation that needs him to fight for his land's peace and existence. Riyasat movie is an inspirational film for everyone.
---
Music
Being an old movie, the film's music is also a very good treat for the old song lovers. The music direction has given by Syed Ahmed. The lyrics have written by Nusrat Badr and Salim Bijnori for the songs of Riyasat.
---
Promotions
Riyasat being a late release of old movie has faced lot of issues and problems in getting released as the film could not find way to hit the box office. Also due to being last film of the late super star Rajesh Khanna it was in controversies and buzz. The film has been distributed by Jai Viratra Entertainment Limited and though it may not seem much promoted but still it has got a flavor of super star in it and the old seventies eighty times story and drama in it that can attract the audience.
---
Riyasat Movie Trailer
Trailer of Riyasat has not been released yet officially, fans were waiting to for its trailer from long time. But now the movie is releasing this Friday on 18th July 2014.