Romeo Ranjha Movie Wiki
Punjabi Cinema is once again ready to get hit by latest movie named Romeo Ranjha. The film is very popular among the audience before the release and is set to bang on the box office this Friday on 16th May 2014. The film Romeo Ranjha has been directed by Navinder Kirpal Singh and producer of the film are Manmord Sidhu, Gunbir Singh Sidhu. The movie is releasing under the banner White Hill Production house and speed Surya Films. There are many hypes and excitement attached with this upcoming film due to its popular star cast and interesting story and title. Genre of the film is focused on comedy. Let's look into other important details regarding this new movie named Romeo Ranjha for more excitement and satisfaction.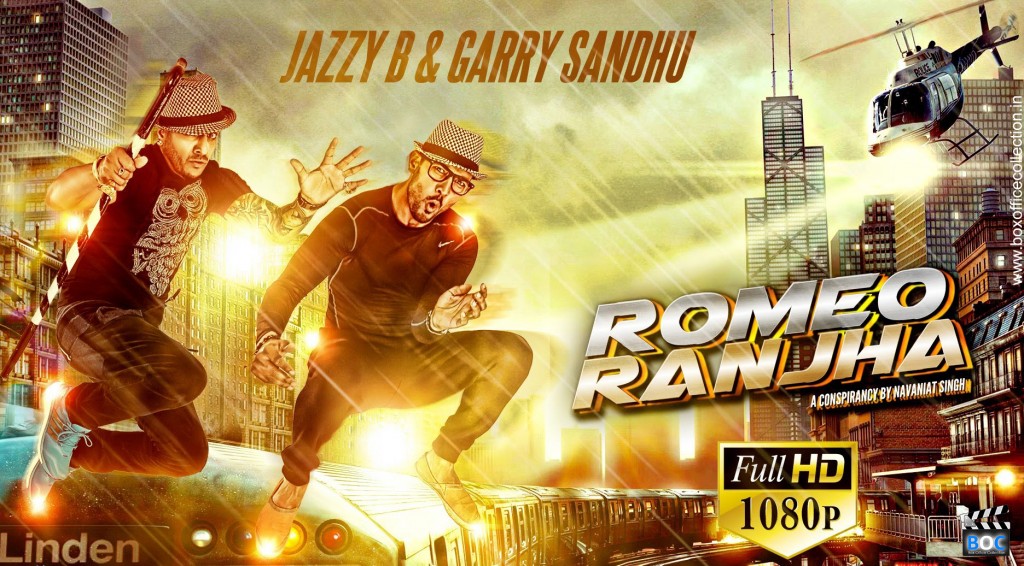 Star Cast
Romeo Ranjha is a nicely star casted movie with favorable actor and actress in it. The film features very famous singer Jazzy B in the in the lead role along with first time debut of Garry Sandhu in Punjabi film industry. Jazzy B fans are excited to watch Jazzy B new film Rambo Ranjha. Jazzy B, Parul Gulati, Garry Sandhu are playing the lead roles in this film and there is some supportive star cast also present in the movie for more interest of the audience.
Detailed star cast of Romeo Ranjha movie are –
Jazzy B
Parul Gulati
Garry Sandhu
Rana Jung Bahadur
Yograj Singh
Gopi Bhalla.
Story of Romeo Ranjha
Romeo Ranjha is story of two guys named Romeo and Ranjha who live in Punjab but go to Thailand to fulfill their dreams. One day by chance they meet each other and get very excited to know that they are both from Punjab and become good friends. They share a common room. They have lots of fun there and enjoy the beauty very much. They work very hard and make lot of money. By the meantime, Ranjha falls in love with a girl named Preet who runs a refugee camp with the help of her maternal uncle. Ranjha wants to marry Preet so he cheated with his friend Romeo and take the whole sum of money they have earned together and shifted to some other place. After knowing this Romeo get hurt that Ranjha cheated with him and start searching Ranjha. Romeo asks about the money and Ranjha tells him that he also gets cheated by Preet and her maternal uncle and now he has no money left with him. After some days, they come to know that Preet and her maternal uncle are in Punjab. They both take the flights and reached Punjab. How they tackle the cheaters is the main comical tinge of the story.
Music
With the popular singer Jazzy B in the lead role, it is too obvious that the music of this upcoming Punjabi film Romeo Ranjha is going to be very rocking and amazing as we have heard so many hit songs from Jazzy B. Ranjha Rambo Punjabi Movie all song are sung by Garry Sandhu and Jazzy B and the music director is Jatinder Singh.
Promotions
Romeo Ranjha is a good budget Punjabi movie so the promotions are also being seen no a well note till now. The lead star cast was busy in promoting their upcoming films on various platforms through media and social media also. Also due to great fan following of Jazzy B it has added up in well promotions of the film by now.