Movie Review: Sabki Bajegi Band (2015)
Starcast: Swara Bhaskar, Sumit Vyas, Amol Parashar, Shaurya Chauhan
Director: Rj Anirudh Chawla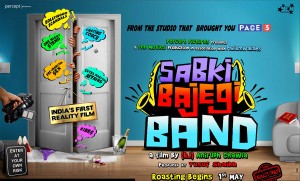 How many films have we witnessed so far a film which has a background of Bollywood? Remember a dark theme of an actress (Hrishitaa Bhatt) who will go to any limits to become a star in Faisal Saif's controversial Jigyaasa (2006) ? Or the superstar (Kareena Kapoor) with her not-satisfying-notions from Madhur Bhandarka's Heroine (2012)? According to me, Heroine and Jigyaasa were both amazing stories to tell. But what went wrong?
After watching another Bollywood-Dirty-Secrets movie Sabki Bajegi Band, I "Still" wonder why Film makers literally fail to portray the darker sides of Filmy Industry?
This one is a True Take (as of what has been circulated via PR Machinery so far) about Nine Indian celebrities whose names aren't disclosed met at a farmhouse a few years ago. RJ Anirudh Chawla arranged this night of debauchery so that he could secretly film their drunken confessions. His master plan: to recreate this as a fictionalized version of events, a 'reality' movie called Sabki Bajegi Band.
Anirudh Chawla also circulated an official apology letter to all his celeb friends exactly before two days of releasing this film. Sabki Bajegi Band, the movie! The official letter! Anirudh's experiments! Are they true or fake, we really don't know.
The film is also full of Fake gossips that tries to malign the Bollywood!
The Performances, Production Values, Music are so bad that you want to run out of the auditorium as soon as possible. I have no clue why a talented RJ chose this subject for his debut film?
This one surely doesn't look like a Film. It looks more on the lines of some cheap-fake reality show with everyone acting cheap and never gives up. Long forgotten Jigyaasa and Heroine were way better than Sabki Bajegi Band!