Dr. Cabbie Movie Wiki
After so many Bollywood movies now audience is going to have fun watching the upcoming Indo-Canadian film named Dr.Cabbie. The film Dr.Cabbie is the upcoming drama genre movie along with dose of emotions and social cause. The film is in news and buzz nowadays owing to its interesting story and also Bollywood names associated with this Canadian film. Dr.Cabbie has been directed by Jean-Francois Pouliot and co-produced by Bollywood actor Salman Khan. The star cast, story and the situations are quite familiar but not too popular and much interesting for the viewers other than the super stars super blockbuster movies. There are known names present in the lead roles in the movie and audience is excited to know more about this film.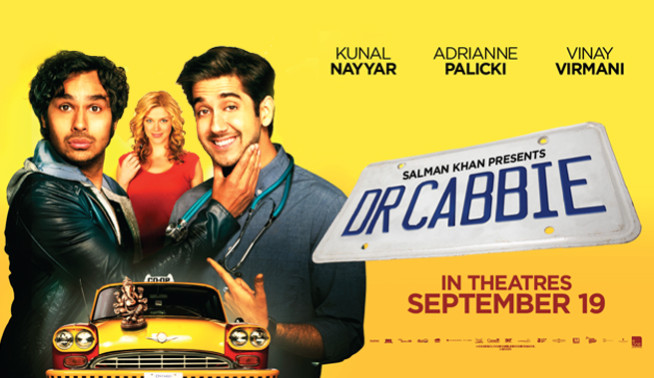 Release Date
Dr.Cabbie is set to release soon on box office and the final date has now been revealed by its film makers. Release date of Dr.Cabbie is set to be 19 September 2014. Earlier there were no fixed date for the film to release but now it has been confirmed by the film makers themselves that the movie will hit the theatres next week.
Star Cast
Being a drama, Dr.Cabbie has a suitable star cast. The much talented and appreciated television actor Vinay Virmani will be seen in the main role in Dr.Cabbie. Audience has already seen Vinay Virmani in previous Bollywood movie David which was directed by Bejoy Nambiar. He is playing the lead role in the movie along with Kunal Nayyar and Isabel Kaif and Adrianne Palicki. There are some other star casts also in the supportive characters. Star cast of this movie is very talented and you will find numerous names and characters in the film.
Detailed Star Cast of Dr.Cabbie–
Kunal Nayyar
Isabel Kaif as Simone
Rizwan Manji
Vinay Virmani as Deepak
Adrianne Palicki
Lillete Dubey as Nellie
Mircea Monroe
Lilly Singh
Story
Dr.Cabbie is a story about a talented person who is a doctor but due to financial backdrops he si forced to become a taxi driver. But soon he uses his talent into his profession and turns out to make his taxi a mobile clinic and becomes famous among the public through this. This emotional and struggle story of an Indian Doctor who immigrates to Canada for work but faces so many hurdles gives audience a lesion to be selfless and help others without being selfish. His mobile doctor cum taxi makers him popular and public hero as Dr.Cabbie finally.
Music
Music of Dr.Cabbie is good as it has been given by known names of industry. This movie is very unusual and different from rest of the earlier Bollywood movies. Being an emotional journey movie the music completely justifies the title and film. Right now no much info is available regarding the music of Dr.Cabbie movie. But one interesting fact is that Salman Khan recently went to Toronto to promote the Music launch event of this film bringing it good hype and publicity.
Promotions
With Salman Khan as the co producer of the film, Dr.Cabbie has got good promotional advantage due to big fan following of Salman khan all over the international countries too. Also due to the presence of Katrina Kaif's sister Isabael in the female lead in this film and Salman Khan producing and promoting it, Dr.Cabbie has got good promotions & publicity and has also got good public response before the release.
Official Trailer
First official trailer of Dr.Cabbie has been released shortly and the trailer is quite an impressive one. It shows quite clearly the theme of the film and it looks very connecting to everyone. Viewers have liked the content of the movie and of the trailers as soon as it revealed. Now it is time for viewers to wait for the final release day of the film.