Samrat & Co. Movie Wiki
Upcoming Bollywood movie Samrat & Co. is the latest thriller cum detective movie along with dose of romance. This movie has been made under the banner of Rajshri Productions. Samrat & Co. has been directed by Kaushik Ghatak and produced by Kavita K. Barjatya. This film was earlier scheduled t get released in the month of May on 1st but now as per the recent changes and reports we have come to know that the movie will release this Friday on 25th April 2014. Below we have provided for additional details regarding this movie Samrat & Co.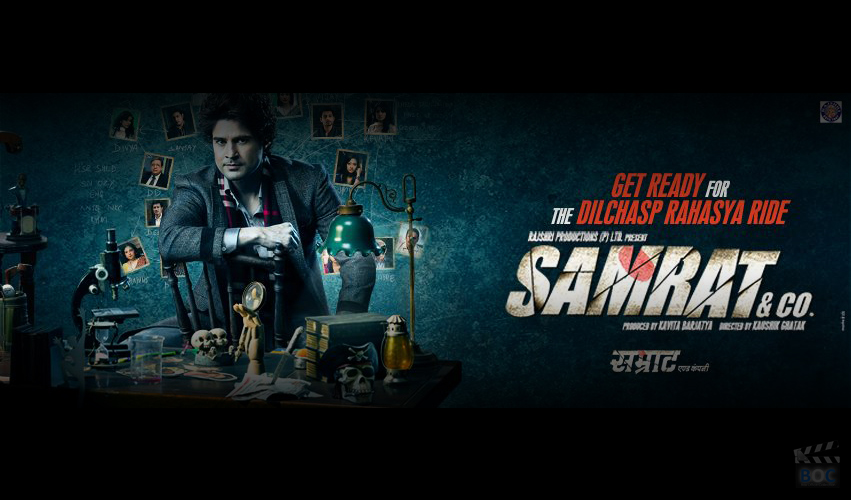 Star Cast
Being a detective thriller movie, Samrat & Co. has a suitable star cast. The much talented and appreciated actor of Bollywood industry who is not known for his star power but for his superb acting Rajeev Khandelwal is present in the film. He is playing the playing the lead role in the movie. There are some other star casts also in the supportive characters. Star cast of this movie is very long and you will find numerous names and characters in the film. This might result in plus point or negative point for the movie.
Detailed star cast of Samrat & CO. long with their characters name are –
Rajeev Khandelwal as Samrat Tilakdhari
Madalsa Sharma as Dimpy Singh
Gopal Datt as Chakradhar Pandey
Girish Karnad as Mahendra Pratap Singh
Priyanshu Chatterjee as Sanjay Singh
Sujata Sanghmitra as Sunita Singh
Shreya Narayan as Divya Singh
Indraneil Sengupta as Vijay Singh
Barkha Bisht as Revati Singh
Ravi Jhankal as Puran kaka
Puja Gupta as Shanti
Navin Prabhakar as Hari
Rajniesh Duggall as Deepak Khurana
Bhaumik Sampat as Inspector Khalid
Pradeep Welankar as DGP Arjun
Smita Jaykar as Narayani Dave
Deepak Shroff as Kishor Dave
Ramgopal Bajaj as Satyadev baba
Anurag Jha as Ghanshyam
Ajay Bhandari as Anuj
Gufi Paintal as Dinesh Das (DD)
Kabir Chopra as Vikramjeet
Story of Samrat & Co.
Samrat & Co. is a string script movie based on detective thriller genre. Audience will find the plot of movie very unique and new. Story of the film revolves around a rich girl who comes to a detective for solving her issues. She finds her garden ruined by someone and also her favorite horse, all these resulting in the bad health of her father. She takes help of the detective to know the reason for the ruined garden, death of their horse and ill health of her father showing that there is something mysterious and wrong going on there. Playing the role of detective Rajeev Khandelwal starts to find out the exact reason. Will he be able to solve the case or will he also be harmed or terrorized by the fishy things happening is the main pivoting point of the movie.
Music
Music of Samrat & Co. is very good as it has been given by the super hit duo of Ankit Tiwari and Mithoon who are audience favorite. This movie is very unusual and different form rest of the earlier Rajshri movies. Being a thriller movie the music is not the focus of such films yet music of Samrat& Co. is very nice and decent. Overall music of the film is good and suitable but not too romantic and is totally apt to the theme of the script. It has got 5 songs in its music album.
Promotions
Nowadays lead star cast of this upcoming movie are busy in promoting their movie all over and as much as they can. Due to low star power and budget, Samrat & Co. has not spent much cost on the promotions or publicity still it has got good public response before the release owing to the presence of Raeev Khandelwal and other nominal actor in the movie.
Trailers
First official trailer of Samrat & Co. has released many days before and audience has liked the content of the movie as shown in the trailers. It shows Rajeev Khandelwal in character of a detective and also the dramatization shown is good enough.
Let's hope best for the movie and wait until the release date this Friday. We will update you box office opening of Samrat & Co. very soon.