Sholay 3D Releasing Tomorrow on 3rd Jan. 2014
After getting introduced with the recent 3D movie based on epical story Mahabharata, box office is again all set to see the upcoming movie next 3D movie Sholay 3D. This film will release tomorrow on 3rd January, starting the trend of film release this New Year. The film is same story, same drama and same star cast or more easily we can say that the film is all same just the only difference is that this newer re-release of Sholay is in 3D format. As Sholay is the best running and famous movies of our Bollywood industry and is popular even till now, so obviously the audience will be excited to see this 3D version of this action cum adventure movie of old style in advanced format. The film will release on large number of screens and has been reviewed averagely by the critics. As the movie is same and all the audience have already watched Sholay many times, so the only attraction about this film is its 3D version.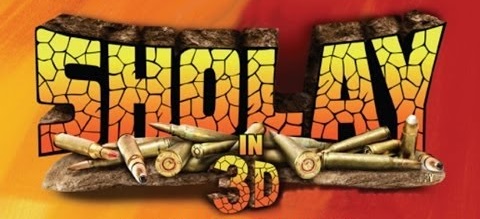 Sholay 3D Movie Review
This film Sholay 3D being the already super hit Bollywood movie will drive the fans of original Sholay definitely towards the cinema halls and theaters, but it could be said that those audience who is seeking something new or extraordinary element form movie, may go from disappointment to an extent. However, Sholay is a many time watchable movie so this may add up great advantage to this re-release in 3D version. According to the reviewers and critics, Sholay 3D is an entertainment movie as it holds the essence of original version. 3D version has been done fantastically and additional effects have been added to this film to entertain the Indian audience. Authentic lovers of Sholay film will go for this movie and enjoy the company in 3D format.
Stay connected to our website for more updated information about the Sholay 3D Opening Day Box Office Collection and many more.