SINGHAM RETURNS ★  ★  ★  ★  ☆  
Rohit Shetty is again back with his new action-full movie Singham Returns, sequel of Singham. A very positive movie with a logical concept which reflects the present time conditions of India like- corruption, scams, irresponsibility etc. Not only the dark side of our country but the bright side too like- honest policemen & politicians.
The story of the movie is very common and predictable but still the movie is a pure entertainment. Nothing could be better than Singham Returns on the occasion of India's 68th Independence Day.
These kind of movies are really very needful for present situations, to change mentality and to motivate peoples. On the occasion of Independence Day, the day which most of the peoples celebrates as a holiday; Singham Returns has lightened up some patriotic feeling among them.
The movie that gives positive thoughts and energy to audience, how that movie can get negative response. Singham Returns is getting 100% positive reviews almost from all critics and analysts. Reviews are the manipulated versions of  public response, it means audience liked Singham Returns very much.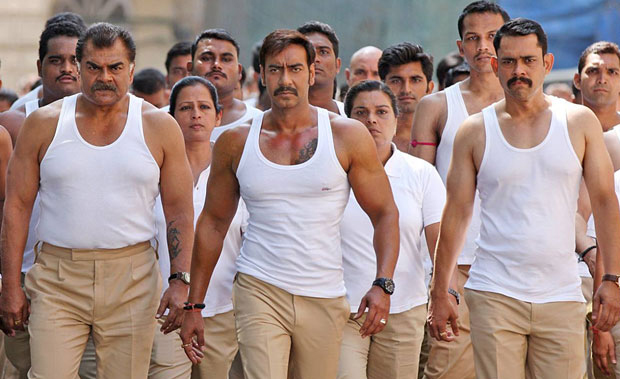 All characters of the movie, played their roles very well. But it is very sad to know, that this time Kareen Kapoor Khan is getting negative comments from audience targeted to her acting and looks in the movie.
Commenting & talking about movie's action sequences is useless, because as we all know Rohit Shetty is so popular for his Whistle Podu Actions & Stunts. This time too, he haven't left any loop to do comments. Actions sequences of the movie are very power packed as we already seen in movie's trailer.
Sajid- Farhad has written the dialogues of the movie, and no doubt both have done their job excellently. Dialogues are playing very important role in making Singham Returns a power packed entertainment.
Overall, Singham Returns is a worth watch movie which all Indians must watch once, specially Politicians and Policemen.
SINGHAM RETURNS Reviews by Critics & Analysts
Taran Adarsh (Bollywood Hungama)
"Singham Returns is a sure shot winner"
Komal Nahta (ETC Bollywood)
"Singham Returns is entertainment to the fullest- surefire hit"
Times of India
"Fabulous is an understatement!"
Filmfare
"Action packed, intricately detailed and entertaining"
Karan Johar (Director & Producer)
"Super Duper Hit- Rohit Shetty is Superstar"
Kamaal R Khan (Actor)
"It proved me wrong- movie is getting wonderful response"