Cast- Kartik Aaryan, Sunny Singh, Nushrat Bharucha, Ishita Raj, and Alok Nath.
Director- Luv Ranjan
Genre- Comedy
Certification- U/A
Rating- 3.5/5 stars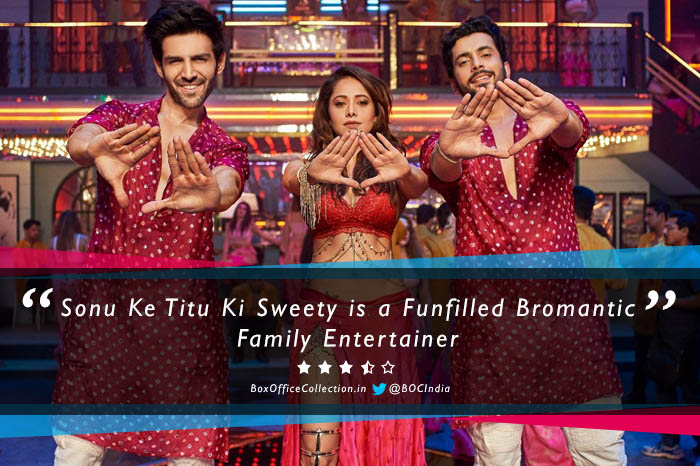 A couple of months after Fukrey Returns, here we have a new Hindi comedy film that keeps you hooked till the end. Yes, that is none other than Luv Ranjan's latest directorial with a tongue-twisting title Sonu Ke Titu Ki Sweety. The film is all about bromance vs romance, where a savior friend keeps his hapless friend away from gold diggers.
The storyline of the film is quite interesting and funny as well. Its a love triangle but with a twist of bromance. Sonu Ke Titu Ki Sweety revolves around an easy-catch guy Titu (Sunny Singh) who is a hapless victim of love. Sonu (Kartik Aaryan), his smart savior brother-like-friend who always save him from bad relationships.
Six months after breaking up with Pihu (Ishita Raj), Sunny decides to get married but Sonu is against his decision. Sunny and his parents find Sweety (Nushrat Bharucha) a perfect match for him but Sonu remains unconvinced about her, and from here the war begins- Bromance vs Romance. Sweety is sharper than Sonu, which makes rest of the film more interesting.
Sonu Ke Titu Ki Sweety starts on a high note and remains constant throughout. The first and second halves, both are equally enjoyable but the second one is spicier than the first. Must say, the film ends on an unexpected and feel-good note. It has many scenes that stand out.
Talking about the performances, all the leading actors have performed outstandingly. Kartik Aaryan is on fire as always, his screen presence is top-notch and charm is magnetic. Sunny Singh has justified his character brilliantly well and Nushrat Bharucha has given a solid performance once again.
Ishita Raj as Sunny's ex Pihu played very well and the one who is known as Sanskari Babuji Alok Nath is a surprise package. Coming to director Luv Ranjan, he knows the taste of youth better than anyone else. He managed all the sections masterly and made a film that keeps you charged from beginning to the end.
Youthful music is already a hit and adds more power to Sonu Ke Titu Ki Sweety. On the last note, SKTKS is a funfilled bromantic family entertainer which is enjoyable for all age groups. So go, watch and do some jaw-exercise. Paisa Vasool hai!
Sonu Ke Titu Ki Sweety Verdict
Story- Good
Direction- Very Good
Screenplay- Good
Cinematography- Good
Dialogues- Very Good
Editing- Good
Acting- Outstanding
Action- N/A
Music- Good
Overall- Above Good (3.5/5 Stars)