Rohit Shetty has Delivered a mixture of DDLJ & Golmaal Returns with a title 'Dilwale'
Movie: Dilwale (2015)
Director: Rohit Shetty
Cast: Shahrukh Khan, Kajol, Kriti Sanon, Varun Dhawan, Varun Sharma, Sanjay Mishra, Johnny Lever, Mukesh Tiwari, Pankaj Tripathi, Boman Irani etc.

Bollywood's most romantic couple Raj-Simran is again spreading love on silver screen with Rohit Shetty's recent directorial venture Dilwale. Makers have presented this action comedy by the name of SRK-Kajol romance and ofcourse tasted almost failure. The audience as well as critics seems confused whether to take it as romantic movie or an action comedy and the point is, both are incomplete. It looks like director Rohit Shetty was trying to give a touch of Dilwale Dulhania Le Jayenge to his previous directorial Golmaal Returns. We must say, this is an awful attempt of Rohit to attach flying cars with romance. Also his direction has number of loopholes, which are not really hard to note out.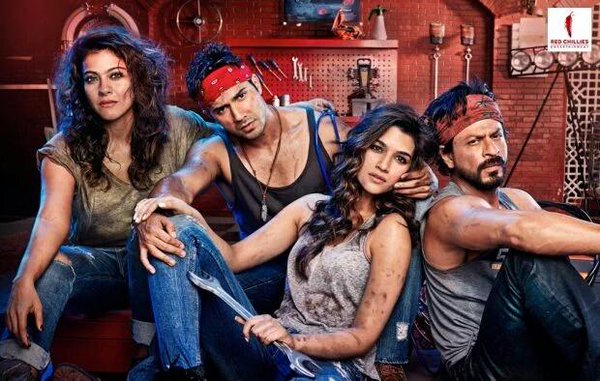 Dilwale has longer run time than normal Hindi movies but still its story seems unconnected. Second half of the movie is slightly better than the first one, because the showcased couple looks happening after the interval. The worst thing about the movie is its flat climax, no excitement no thrill just ended like "chalo bhai time hogya". And the second worst thing is the character of 'King', why this don looks so funny? only director knows.
Performances of the casts are good, especially Kajol she has played her character superbly. Shahrukh Khan is a superstar, so there is no point to talk about his performance, he always does well. Kriti Sanon has also performed her character very well and looking charming as always. Varun Dhawan loves to give loud expressions and he is the right candidate for Rohit Shetty. The main highlights of the movie are its supporting characters- Sanjay Mishra, Johnny Lever, Varun Sharma, Mukesh Tiwari & Pankaj Tripathi.
Apart from number of loose points, Dilwale has some emotional, comic & romantic sequences also which holds audience till the end. Action sequences are also very well choreographed, for which Rohit is best known. These positive points makes the movie entertaining to some level. For its Music, Dialogues, Action & Cast Performances, Dilwale gets 2.5 stars out of 5.