Sultan: The Best One to Showcase from Salman Khan & YRF
Certification- 'U/A'
Director- Ali Abbas Zafar
Star cast- Salman Khan, Anushka Sharma & Amit Sadh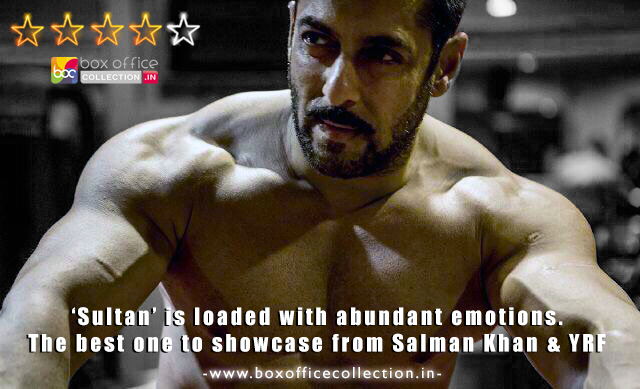 After Bajrangi Bhaijaan, Salman Khan has delivered another film 'Sultan' which is loaded with abundant emotions. The statement can not be denied, that it is the worthiest film of the year so far to watch. Sultan is a very beautiful love story which does not end despite many problems. Also it teaches a good lesson of life, 'never give up'. Very masterly the director Ali Abbas Zafar & the team has inserted all the emotions in the film simultaneously.
With its title, the film seems like a story based on the struggle & fights of a wrestler. But in actual, it is about the reasons behind his rise and fall, with a touching love story in parallel. On a clear note, the story of Sultan touches the heart and makes a place there. Despite being quite lengthy, it holds you till the end with the same enthusiasm and curiosity.
Salman Khan has once again proved his steller skills. Undoubtedly he has given, one of the best performances of his career so far. Very perfectly he has reflected the required toughness and innocence for his character. Anushka Sharma has also performed brilliantly as a female wrestler and synced very well with Salman. Rest all the actors have positively justified with their characters.
Flawless direction and screenplay are the second best parts of Sultan after the acting section, which makes each & every scene cleared to you completely. Good dialogues and enthusiastic music adds a good taste in the film. Overall Sultan is a worth watch family entertainer, which deserves your time. What is 'Paisa Vasool' movie? this Salman Khan starrer can give you the perfect answer.
Sultan Performance Chart
Story- Excellent
Direction- Very Good
Screenplay- Very Good
Cinematography- Good
Dialogues- Good
Acting- Excellent
Action- Good
Music- Good
Overall- Very Good (4/5 Stars)