Tamanchey Movie Wiki
Tamanchey is the new Bollywood movie set to hit the box office after next month. Te film has been directed by Navneet Behal and it has been produced by Suryaveer Singh Bhullar under Wild Elephants Motion Pictures in association with Fashion TV- marking its entry into the Bollywood film-making business. Tamanchey is an aggressive, passionate acidic love story between two criminals and has created quite buzz before its release due to its bold story. The movie is quite interesting and have not so famous star cast in it. Given below are the additional details about this Bollywood movie.
---
Tamanchey First Look Poster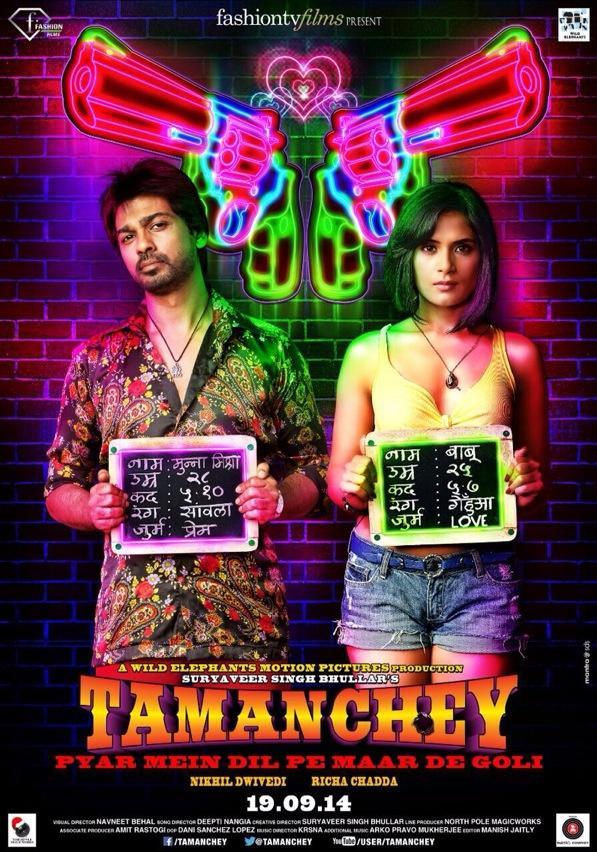 ---
Release Date
Tamanchey release date has been fixed by the film makers and the sources reveal that the film is going to introduce itself among the audience along with the other upcoming movie Khoobsurat i.e. on 19 September 2014.
---
Star Cast
Tamanchey is not a high budget movie and that is why the star cast of the film is not so star powered or super star. It features two known faces of Bollywood film industry that were always seen in only supportive roles but with Tamanchey they will be making their debut as the main leads of a Hindi film. Nikhil Dwivedi and Richa Chadda will now be seen together as the lead roles in the upcoming film "Tamanchey". There are some supportive actors present in the film beside the main leads.
Detailed Star Casts of Tamanchey is –
Nikhil Dwivedi
Richa Chadda
Damandeep Singh
---
Storyline
Tamanchey is a gangster film related to crime, love and all the required essence. Story of the film is based on the lives of 2 gangsters or say criminals. Tamanchey movie describes a realistic take on the lives of the people in the underworld and their passionate and bold love story. Tamanchey shows the cruel life of the underworld and how badly it ends. The movie also shows the result for keeping feelings like love in the line of the evil and underworld where crime is common.
---
Music
Music on this upcoming Bollywood romantic cum action film has been given by Pritesh Mehta. Though we do not have any famous track in memory from this person but we hope that he will justify the title and story. Till now no song has released from Tamanchey movie.
---
Promotions
Some reports reveal that the synopsis of Tamanchey is very controversial underworld love story of real life underworld couple Monica Bedi and underworld don Abu Salem. It is the reason why both Nikhil and Richa required acting intimate in movie to fit in their underworld character which was the most difficult part of shooting as per the film crew. This has given the film quite publicity and promotion advantage among the audience and getting their attention.