Tevar Critics Review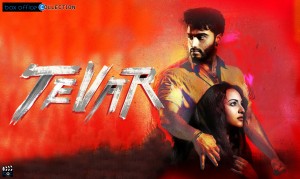 Meet the two talented youth actors Arjun Kapoor and Sonakshi Sinha in their latest upcoming film '
Tevar
'. It is the upcoming
Bollywood
romantic cum action movie all slated to release on box office this month. With both of them together for first time, critics expect a peppy, youthful scores along with a superb chemistry and story. Add Boney Kapoor with Yash Chopra's fame and the benchmark becomes most of their hits. Critics have analyzed
Tevar
on different basis, starting from the music which is gaining lot of popularity nowadays – Let's Celebrate & Superman, Radha Nachegi & Joganniya. The first one is just the kind of song that burns floors and ignites charts and is the true killer and second one being an introductive sort of song, third being a classical fusion and last being totally soulful romantic track. Apart from this being a remake story is also its strong point.
On the totality note, as per critics this film is a youth centric as well as a family film with lots of action and romance. Of the youth, for the youth and largely by the youth: This film has got a zing factor that makes us overview the action flavor and masala. Overall critics have rated Tevar 3.5 out of 5 stars. This is a film with songs & story that might work for it, but given its target appeal, we cannot expect immortal or enduring element in them.
Story of the film is fantastic and has all entertaining points and notches in it that makes audience entertained at various points. We can expect a youthful sort of entertainment from the film in good dose along with romance, action and lot of humor too. All this can work out for the film resulting in successful launch and of course positive past of the both the main leads might positively affect their latest collaboration too as per the critic's reports.