Review of The Fate Of The Furious (Fast And Furious 8)
Genre- Action & Thriller
Certificate- U/A
Director- F. Gary Gray
Star Cast- Vin Diesel, Dwayne Johnson, Jason Statham, Michelle Rodriguez, Tyrese Gibson, Chris Bridges, Nathalie Emmanuel, Kurt Russell, Scott Eastwood, Helen Mirren & Charlize Theron.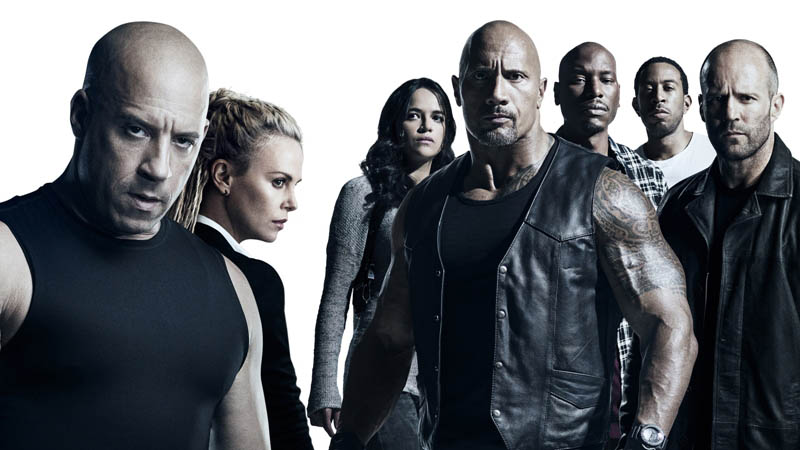 With abundant actions, the latest Hollywood offering The Fate Of The Furious lives up to the earlier expectations. Although it is not as awesome as the previous installment, but still it keeps you gripped till the end and thrills at many points.
Director F. Gary Gray and writer Chris Morgan have come up with a twisty story in this latest installment from the franchise Fast And Furious. This time the major character Dominic Toretto aka Vin Diesel goes against to his family (team mates) and joins hands with his enemy Deckard Shaw aka Jason Statham.
Diplomatic Security Service (DSS) sturdy agent Luke Hobbs aka Dwayne Johnson gets arrested on treason charges. Ultimately Dominic, his family, Luke and Deckard come together to fight against the antagonist Cipher aka Charlize Theron, a cyber terrorist who wants to hack all the powerful resources of the nation for an unknown reason.
There is also a big surprise for fans, that Brian is back. Not Paul Walker, but Dominic has a son with Elena Neves aka Elsa Pataky who gets killed by Cipher. Dominic saves his son with the help of Deckard and introduces that new little member with all as Brian in the end.
Performances by actors and at all the technical aspects, The Fate Of The Furious stands on a good position but it does not have any effective storyline. You will definitely enjoy the whole movie but come out of the theaters with an empty mind.
Overall this latest offering is a thrilling ride but you need to forget about story. Do not worry you won't be regret after watching it. The Fate Of The Furious is worth a watch movie and it deserves your time.
'The Fate Of The Furious' Verdict
Story- Average
Direction- Good
Cinematography- Good
VFX- Very Good
Editing- OK
Acting- Very Good
Action- Very Good
Overall- Good (3/5 Stars)