The World Before Her Movie Wiki
Beside the fanatic and comedy cum drama film Filmistaan which will hit the box office this Friday, there is one more movie in the list that is going to release same day on big screen. The World Before Her is the upcoming Bollywood movie which is already a multiple award winning film that is based on an inspiring story. The film is being released in three languages i.e. Hindi, English and Marathi. This true incident inspired film has been directed by Nisha Pahuja and also the story has been written by her. It is a drama cum emotional genre which is expected to touch audience heart due to its sensitive story and performance by the star cast.  In this film, parallels are drawn between the Miss India beauty pageant and a fundamentalist Hindu camp for girls, illuminating the opportunities for women in contemporary India. Below you will find more facts about this latest movie.
---
The World Before Her Poster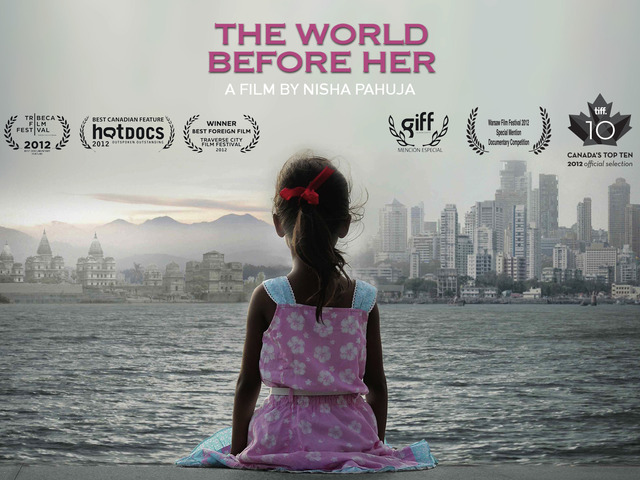 ---
Release Date
The World Before Her is the latest Bollywood film which will be up on the box office this Friday as per the scheduled date 6th June 2014. Length of the movie is medium and it has total runtime of 1 hour 40 minutes.
---
Star Cast
Star cast of this upcoming movie The World Before Her is not popular and there are mostly all new faces for the audience in this flick. The film features characters of Ruhi Singh, an inspiring Miss India, and Prachi Trivedi, a militant leader at VHP run Durga Vahini Camp, Aurangabad.
Detailed star cast of The World Before Her are –
Pooja Chopra
Ankita Shorey
Ruhi Singh
Mark Robinson
Prachi Trivedi
---
Story of The World Before Her
It is an inspiring story based on the life of two women. The script is quite a real and provided such a sensitive and emotional specimen of two women whole life structure. Both the women are totally different and unknown from each other. Two worlds that could not be further apart and two women whose dreams could not be closer. The highlighting point is watching how they shape an India at a key transitional moment.
---
Music
It is not a music oriented film that is why there is not much tracks in the film. Also not any significant info has been revealed by the film maker regarding the music of this upcoming film.
---
Promotions
It is a non commercial sort of movie with low star cast, cost and promotion. Total cost on promotion is quite low and it may affect the audience response for the film in the adverse side.