'Udta Punjab' Gets Positive Reviews from Critics as well as Audience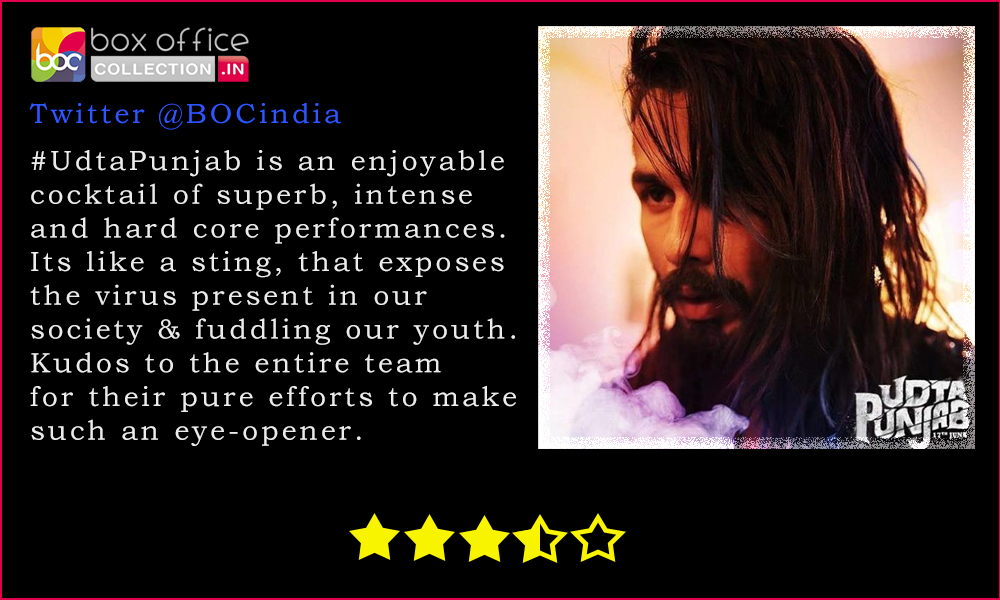 The most controversial movie of the year so far, Udta Punjab has finally released with a good buzz across the globe. It has opened up on a good note and getting positive reviews from critics as well as audience. After being leaked before release, it was not expected to open up with such good excitement but it is doing miracle on box office. From the morning shows, it is witnessing amazing occupancy in theaters. The craze of audience can be easily notice on social media.
Most of the critics, Bollywood celebrities and audience as well showing thumbs up for Udta Punjab-
The well known journalist and trade analyst Taran Adarsh tweeted "#UdtaPunjab is bold, brave and brilliant with bravura performances. Watch it!".
Amul Vikas Mohan tweeted "#UdtaPunjab has some of the finest performances I've seen in a long long time!"
Vajir Singh tweeted "Moving out of your comfort zone and attempting a #UdtaPunjab…Take a bow"
Siddharth Kannan tweeted "#UdtaPunjab is fiery & fearlessky breaks boundaries! @ShahidKapoor @Aliaa08 @DiljitDosanjh give rock solid performances! 4 stars"
Subhash K Jha tweeted "Feral, Frenetic, Riveting, Hypnotic, hallucinogenic & altogether stunning, we've never seen anything quite like Udta Punjab.
Miss Malini [4.5/5 stars]- There's no emotion that #UdtaPunjab won't make you feel.
Filmy Curry [4.5/5 stars]- Everything about the movie is intoxicating & 'FLYING" sky high!
Movified Bollywood [4/5 stars]- Udta Punjab Plunges into darkest depths of truth & shines with cinematic brilliance.
Bollywood Bubble [3.5/5 stars]- A gripping tale that deserves your time.
Gulf News [3.5/5 stars]- The way the worlds of a cop, a heroine addict, a rock star & a doctor intersect is cleverly shown. Be sure to give Udta Punjab shot.
BOC India [3.5/5 stars]- #UdtaPunjab is an enjoyable cocktail of superb, intense and hard core performances. Its like a sting, that exposes the virus present in our society & fuddling our youth. Kudos to the entire team for their pure efforts to make such an eye-opener.
Tweets about #UdtaPunjab review