Movie: Welcome Back (2015)
Director: Anees Bazmee
Cast: Anil Kapoor, Nana Patekar, Paresh Rawal, John Abraham, Shruti Haasan, Naseeruddin Shah, Shiney Ahuja, Dimple Kapadia, Ankita Srivastava.

One of the much awaited movies of the year Welcome Back has released out and also takes a good start on box office. As we all know, it is the sequel of 2007's hit movie Welcome and that is the main reason behind such good hype of it among audience. Last part was starring the super star Akshay Kumar along with Katrina Kaif, but this time they both have been replaced by John Abraham & Shruti Haasan. Yeah, everyone is missing Akshay in the second part but his absence is not effecting much. Because Nana Patekar aka Uday Shetty & Anil Kapoor aka Majnu Bhai, they both will not let you do anything except laughing till the end. Presence of Akshay could make it more hilarious but still it is enough to entertain you.
Yesterday I watch the movie, frankly I was expecting it as normal but it is one level up. Welcome Back is having more punches than the first part but no effective script. I watch…I laugh and came out, there is nothing puts effect on you except the hilarious dialogues of Uday Bhai & Majnu Bhai, they both are gems of the movie. The same as the performance of Deepak Dobriyal aka Pappi in Tanu Weds Manu Returns. But the two things that disappoints you, first is its music and second is its 'flying people' end. It would not be wrong if I say, makers spent crores on locations but ended the movie in typical Tollywood style. After watching the magnum opus Baahubali, everyone is well aware about the VFX, which is not so impressive in Welcome Back.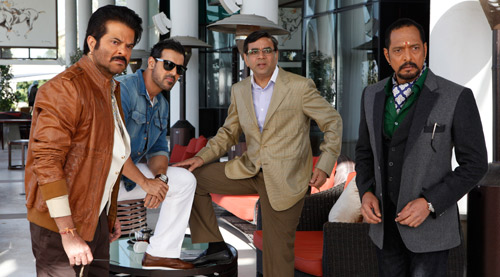 Story
Here is the story in short, coz I'm feeling very sleepy…Sorry!
Uday Shetty (Nana Patekar) and Majnu Bhai (Anil Kapoor) have left the underworld and are now big businessmen in Dubai. Two women, Chandni (Ankita Srivastava) and Maharani (Dimple Kapadia) enters in their life. Chandni is the new love of Uday Shetty and Majnu and both friends dreams of tying the wedding-knot with her. However, Appa – Uday's father, plays spoilsport by bringing-in his other daughter, Ranjana (Shruti Haasan) from his third wife. He tells Uday to get her married to someone from a good family. Maharani puts a condition that only after her sister is married, will Chandni will marry one of them. Now, a search to find a suitable husband for Ranjana starts. Then Ajju Bhai (John Abraham), the stepson of Dr. Ghungroo (Paresh Rawal) enters in Ranjana's life and both falls in love with each other. From here chaos starts because Uday & Majnu do not want their sister to marry with Ajju.
Acting
Welcome Back features four renowned actors of Bollywood- Anil Kapoor, Nana Patekar, Paresh Rawal & Naseeruddin Shah. They all are very good in their characters as always, but the thing that should be mentioned is, 'Anil & Nana are outstanding and for me they both are the lead stars'. John Abraham is justifying with his character of muscular Ajju Bhai. Shruti Haasan is looking gorgeous as always and played her role very well. Rest all the supporting characters have played well.
Action
Action sequences are power packed but flying people makes them average.
Direction
Direction of the movie is done by Anees Bazmee and it is an average. I'm not enough skilled about direction but the climax of the movie could be logical and standard matching. As I said above, "makers spent crores on locations but ended the movie in typical Tollywood style".
Editing
The run time of the movie is good as required but rest everything is an average & please do not ask about the visuals, in one word- terrible!
Music
Music of the movie has been composed by Aadesh Srivastava and is below average. Tutti Bole Wedding Di, I can consider only this as a song.
Star Rating
Welcome Back gets 3 stars out of 5, two stars are deducted because of ineffective script, bad editing & below average music.
Why to watch: To spend happy hours.
Why not to watch: As you wish!
Conclusion: Watch it for Anil Kapoor & Nana Patekar's hilarious performance.