In the recent episode of celebrity chat show 'No Filter Neha', the host & actress Neha Dhupia had actor cum producer Farhan Akhtar as a guest. In the episode titled Farhan Akhtar on Fire, Farhan has revealed a lot about himself.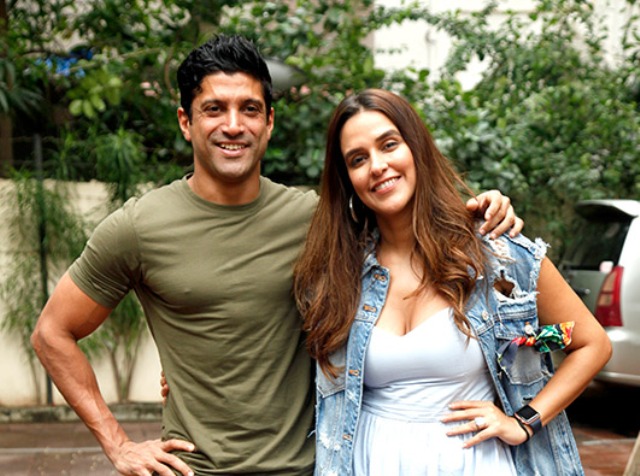 Farhan and Zoya would chant this song to keep ghosts away
Neha: What happens to you or what used to happen to you when you were younger and you would watch a scary movie, Is it true that you would go from one room to another singing songs so that, that was the way to keep the ghosts away?
Farhan: Ya, When Zoya and me watched horror films and after which we had to go through this really tiny passage. It must have been about 10 meters long right or maybe 15 at the most, from the place from where the TV was kept in the house, the one TV and VCR that we had, so to go from there to our room, we had to go through this little corridor.
After Shining they are especially scary because we imagine those two little twin girls standing at the end of it, 'come play with us' Oh God it's creepy. The only thing that kept us going was the song 'Disco 82, Disco 82'. Whenever we ran from that room to our room, I don't know why, both of us, and we never spoke about it, we never decided that this is the song that is going to keep us safe or this is the song that repels spirits and ghosts but she sang it and I sang it and we would walk really fast going– disco 82, disco 82. Main ek disco, tu ek disco, duniya hai ek disco.
Farhan confesses this one thing gives him most clarity
I find a lot more clarity when I do write. I feel like it's easier for me to say things when I write them down. When I speak I at times can digress a lot more, away from the topic at hand.
Farhan talks about being a low-ly assistant
Pankaj was a very good boss to have. He was very open. I mean I was a very low-ly assistant to have. And at that time they didn't have this system of first AD, second AD. It was like chal tu bhi aaja. That kind of a vibe, ek clap de dena aur wahan jaakar mark vark laga dena. So I was that guy. I was like the 9th AD or something like that. So I was doing the clap and I had the amazing honor of waking the cast up early in the morning. So we were shooting in Dalhousie and I had to wake up at 4 a.m. and wake everybody up. So it used to be quite a task.
Akshaye was always the first choice for Dil Chahta Hai
Akshaye Khanna was always the first choice. He was the first guy I ever met for that film. And I actually met him at that time because I wanted to cast him in the role that Aamir eventually played. So I spoke to him for the role that was Aakash.
Farhan's dream cast for Dil Chahta Hai
I wanted him (Akshaye Khanna) to play Aakash. I wanted Hrithik as Sameer and I wanted Abhishek as Sid. That was my ideal casting.
Farhan thrown out of college because they didn't recognize him!
Neha: Why did you drop out or why were you thrown out of college? You're so bright.
Farhan: I actually ended up doing something in college that really wasn't my calling, I think. I think that's what happened
Neha: Which is?
Farhan: Commerce!
I did commerce because my friends were doing it. I didn't actually pay attention to the things I really enjoyed doing. You know, I really used to love History in school , I used to love literature and English language, I loved geography. And if i just paid attention to that stuff, i think an art curriculum would've suited me a lot more. I hated math in school, I hated economics. But I still went ahead and did it because all of my friends were doing it. And within the first year I realized that I've made a huge mistake. So instead of you know speaking to my mum about it, I just stopped going.
I just stopped, I didn't go. My attendance was next to nothing. That was the time I'd just go watch movies, I'd go to a friend's home just hang out there if he or she was at home, I'd have friends come over, I'd pretend to be sick a lot. When I got thrown out of college, it was absolutely figured out that I haven't been there.
But you must give me points for courage because after not attending a lecture for over 6-8 months, I very diligently landed up to give my papers, for my exams. And I wasn't allowed to sit. They didn't recognize me! They had no idea who I was. They were like who are you and I was like I'm student number so and so and they were like we've never seen you, please get out of this class.
Listen to 'Farhan Akhtar on Fire' from #NoFilterNeha – Season 2 on Saavn App.