Bollywood's one of the very popular filmmakers Karan Johar was the guest in recent episode of actress turned host Neha Dhupia's chat show 'No Filter Neha' Season 2. In the show, Karan revealed a lot about himself and also confessed that he love winning awards.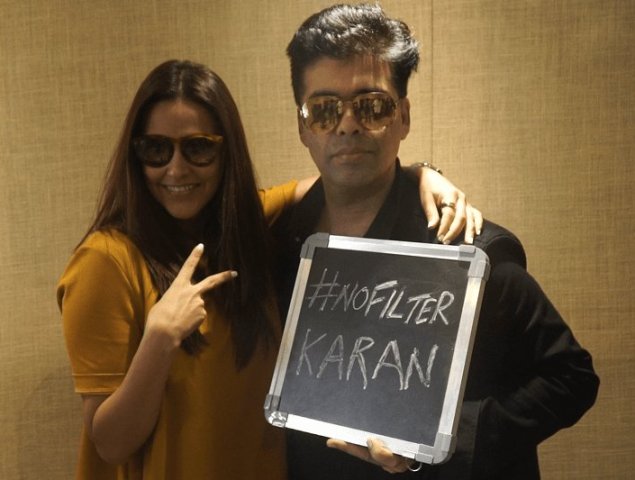 Karan Johar on getting fit
The moment I had my babies, I realised that the next step was to actually get fit myself so I could live long for them. Because I felt like I had just gone all over the place with my diet, my routine, my life.
And I suddenly felt I was only wearing black because I had to hide all those extra curves that come with my beautiful voluptuous body and I realised that I needed to hit the gym or the gym needed to hit me. One of the two needed to happen.
Karan Johar on his body
I'm very shy of my body because it's not a body worth being proud about.
Karan Johar on his swimming pool entrance and exits!
As soon as it's pitch dark, at about 8:30 I go literally like a heroine, you know with a towel wrapped around me like no one's going to look cause i feel like some paparazzi will come. I wear these kaccha type of swimming costumes and long shorts then I wrap myself with a towel and when nobody is looking.
I quickly slip into the pool so nobody sees me. Then when I'm stepping out, I have somebody assist me and give me the towel like one big 90's heroine and I'll wrap myself around this towel quickly and then I walk out.
Karan Johar feels naked wearing just a t-shirt
I can't walk around with just a t-shirt. I feel naked. Last night I went out with the boys like Varun and Arjun and Adi and it was so hot. We went to this place called Su Casa. They asked me to remove my jacked because I was sweating. I had become like a pool of sweat.
Then I removed my jacket and I was just in a black t-shirt and I swear I felt naked. Because I felt shy, I felt awkward and I was behaving like somebody had completely taken advantage of me because I was feeling so completely isolated in that space full of thousand people and I was like just get me out of here, I'm just wearing a black t-shirt. I couldn't handle it.
Karan Johar on day s3x
Day s3x is great, especially when it's on holiday. Morning s3x is even better if you can bear the person spending the night with you. 9/10 times I can't. But eventually, it's all about lights off. And you know, the worst is when you're in the beat of it and in hotels, you don't know where the switches are.
In your bedroom you're find because you're equipped to know exactly where what is but in hotel rooms it's complicated cause there are so many switches! So by the time you're in the throngs of ecstasy and you're pressing and prodding all over the place, the mojo is dead.
The lights are off but the mojo is dead. It defeats the purpose. Which is why I prepare myself. I put off most of the lights, then I welcome the guest. And then I perform.
The one thing Karan Johar loves
I love winning awards. I love, love, love being on stage. I love dressing up, I love standing on that stage, I love giving the acceptance speech, I love the moment when you're the only star in the universe in that moment at least in your head.
Then it's moved on the next category and it's over. But those ten seconds are glorious. I'll go to the opening of an envelope's if my name's on it!
Karan on Yash and Roohi's first appearance
Kareena and I have decided, it's Taimur's birthday party. He is two months older than them. Taimur was born in December. So his birthday party is where Yash and Roohi will make their debut appearance. Watch out Instagram! Because these three cuties are going to break the internet. I can't wait for that photograph.
Guess who Karan messaged first to inform about the birth of his children?
So honestly, what happened was that when the babies were born, which no one knows, I sent the message to Kajol first. I sent her a message saying that you don't have to reply to this message but I really don't want you to be seeing these babies in a newspaper or online.
I want you to see what they look like and you don't need to reply but I woke up with a dream and I woke up with a heavy heart and I just felt the need to send you the images of my children and I sent them to her. And she replied instantly saying they look gorgeous and I hope they give you all the love that my children have given me. And that was it.
Karan regrets going public about Kajol and his relationship
I do feel that I did speak about many, many things and I said many, many things but now when I look back I'm going to say that whatever may have transpired, and everything that I said about our relationship, a lot of it I think that perhaps I reacted on impulse and put it out there and now when I look back, I'm like, maybe it was something that I should have kept to myself.
I think there are certain relationships are so sacred that when you hurt from them or you hold on to that pain, you keep a lot of those feelings to yourself and leave it to one on one discussions.
I've probably made the mistake of going public and that is something that is out there, it's archived and I can never take that away, and those feelings are what I did feel but maybe it should have been one on one. But having said that, the relationship is too strong in the past for me and for her not to have a 2.0 version of it.
Listen to 'Karan Johar Kills It' from #NoFilterNeha – Season 2 on Saavn App.