Last week veteran actor Rishi Kapoor was on Neha Dhupia's talk show 'No Filter Neha' Season 2. The actor known for his social media controversies, had revealed many things about himself and also expressed his opinion on son Ranbir Kapoor's consecutive failures.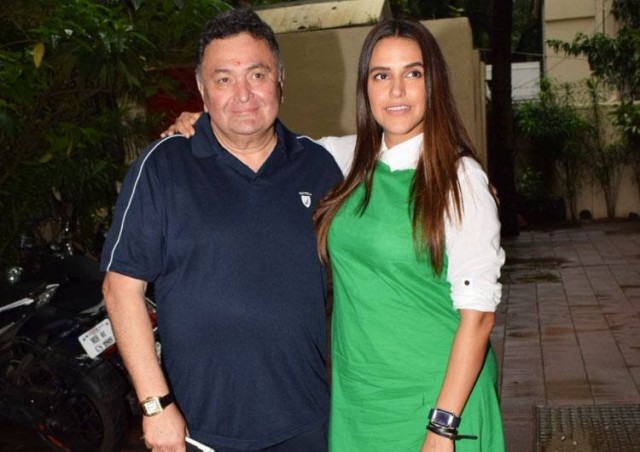 Rishi Kapoor blames 'monkeys' Anurag Basu and Anurag Kashyap for Ranbir Kapoor's flops
Anurag? There is Anurag Kashyap, who made Bombay Velvet, but he made a better film in Gangs Of Wasseypur, I couldn't understand head or tail of Bombay Velvet. And then there was Basu who made Barfi an outstanding film. I am so happy he took my son for it.
My son got great recognition for the film and then he made this Gajja Jasoos… or Jagga Jasoos whatever.. which he made a total mess of. It was as messy as my pronunciation was. He probably got too indulged. I guess both the Anurags got indulged in their films.
You know when they are good enough to work on a certain budget and suddenly they are given huge budgets in hand so bandar ke haath mein khilona nahin aa jaata hai, he goes absolutely berserk. So I think that's what actually happened with both these guys.
They were given budgets they could not handle and I guess it happens. It happens with every director, every actor you can't have a hundred percent record anyway…So it happens
What does Rishi Kapoor find difficult working with today's directors
See, what has happened is the inception, rather the introduction of this digital era. You know with film gone, and everything has become digitalised. Your editing is digital, your shooting, you're filming also right now in digital. The whole pattern has changed, there's no film now so there's no wastage.
So what happens is that directors like to cover the whole scene, not to say from all angles but they do this circumferencely, 360 degrees, north south west east. Whereas the actors are getting screwed in the bargain.
We got to do the whole scene in every angle and for actors like me, who are spontaneous, actors like me find it difficult to reproduce the same shot, same emotion from all those angles. So it's become very very difficult. Even Amitji was complaining to me that bohot mushkil ho gayi hai aaj kal.
Rishi Kapoor admits that he's very difficult to work with
I'm a very difficult actor to work with. It's because I function within my own functioning. I don't think I'm ahead but I sometimes feel like I'm arriving the scene within me, at my own rhythm, with my own self.
Like I'm very very particular about my look, my clothes, in and around my surroundings, how the scene should be played, how my fellow actors should be participating. I'm totally involved in my work and I expect the same thing out of the other artist
Which new age director is Rishi Kapoor not on the same page with
Shakun and I are not on the same page ever! Like during the shooting of Kapoor and Sons but yet the result was what he actually got.
When he refused a film because it was an only night shift
I was doing two shifts a day. First shift used to be in Madh Island for some producer, the next shift was in RK Studio, which is pretty far from Madh Island. The director was pretty mad, he was after my life – kahaani sunani hai, kahanj sunani hai. So I said listen, why don't you come to Madh. I'm going to pack up a little early by about 1, 1:30.
We'll have lunch and then you tell your driver to follow my van. We'll sit in the van and then we'll go chatting. That's what happened. Bas yahan wahan ki baatein and then I said chal bata teri kahaani kya hai? He said sir, kahaani badi asaan hai. Ek raat ki kahaani hai.
It's actually a who's done it kind of stuff. It's like ek murder hota hai…and I was like ek minute yaar, tu 15 second pehle kya kaha? Tune kaha ke yeh ek raat ki kahaani hai? I was like matlab tu poori picture raat mein hi banaega? Haan sir zaahir hai raat mein hi banaunga.
So I shouted out at my driver – Tukaram gaadi roko! He stopped the car and I was like, gentleman please get out of my van and step into your car. I'm not doing this picture! I've just finished Sagar and I'm forever shooting in the night in that film!
How Rishi Kapoor was offered Amar Akbar Anthony
I was shooting for Lalla Majnu in Bikaner. No mobiles, no television in the rooms, no telephones in the room, nothing. So when after pack up, at about 7 o'clock we used to meet in the billiard room. So it was one of those evenings when someone came running from the reception saying – Rishi Kapoor saab ka lightening call aaya hai.
Now lightening calls those days was something to worry about. We were like lightening call kiska aaya hai. My secretary said Mr. Manmohan Desai would like to speak with you. He was like haan haan main Manmohan Desai bol raha hoon and I was like yes sir what can I do.
I'm making a film called Amar Akbar Anthony and I am wanting you to play Akbar in that film. Now there's a backstory you must remember that Manmohan Desai had become a huge commercial director. Manmohan Desai could do anything at that point of time.
So suddenly when he offered me the film, a throughly ran in my mind and I was like but sir, how can I play my grandfather?! He said I want you to play that role called Akbar and I said but I cannot play my grandfather. I thought he was making a film with Amar, purane zamane ka basuri bajanewala and bed make Akbar Mughal-e-azam wala.
And Anthony I'm thinking he's making Cleopatra in Anthony. So that was my first encounter with Manmohanji when he offered me the film on a lightening call at Bikaner from Mumbai. But I can't forget how he offered me that film and what I made of that film.
The famous Kapoor photograph is not one photograph
First of all, this picture that you're talking about with all the Kapoors. That photograph was shot for vogue magazine. And it's shot in four portions. It's not one. It's dissected into four different parts. I think one was Shammi uncle, mickey and Neetu I think. Then the other was myself and somebody else. They were done in parts and then they were of course, integrated together.
The one thing that the Kapoors are obsessed with
This was someone else's observation that when the Kapoors have breakfast, they talk about what they want to have for lunch. When they're having lunch they talk about what they're going to have for dinner. Food is a conversation that they're all occupied by.
Raj Kapoor's motto
Crew walon ko khilao jamaiyon ki tarah, kaam karao kasaiyon ki tarah.
On his relationship with Ranbir Kapoor
I didn't have a very friendly relationship with my son, which I regret. Now I miss it and I'm probably making up for it.
On Ranbir's traits
I don't know if he's taken anything good or bad from me, I don't have very many good things in me. About Neetu is that he's very very obliging. Very very kind, which I don't like at all. Giving in to a lot of things, he can't say no, he's very very patient. Someone should learn patience from him. He will oblige the last person at the domestic airport also. He'll take a picture, he'll miss his bloody flight but he will take those pictures with them and go.
On his impatience and hatred for Selfies
Ek toh main autograph nahi de sakta tha kabhi. Aaj selfie ka zamana as gaya hai, everybody carries a smartphone, everybody wants to take a selfie. I just can't take it yaar! I just get very unnerved when someone says selfie lu? Main khada hu 1,2,3,4. Le nahi raha, woh le nahi raha, usko mil nahi raha button. Aur yahan mujhe aag lagi hai, I want to give one tight slap to the bloody bugger. I said do you mind, itni der mein main picture bana deta.
On waving out to fans like Amitabh Bachchan and Shahrukh Khan
Who will I wave to? My driver? People want to see them, nobody wants to see me. I don't live in a fool's paradise. There are people who want to see them, me they are very gracious that they do it. I don't like giving autographs, taking pictures. I don't have the patience and I'll come out and wave to people? You must be joking.
On his tweets
What I tweet, I tweet for myself, not for others.
On award shows
It's not merited anymore, we all know that. Awards are not on merits. It is compromised, it is given in lieu of something. Awards in our country are a joke, they are not anymore taken seriously. They are more about fashion shows, about naach gaana no they're making software for television
On Chautha looks and airport looks
Everybody has become fashion conscious. They go on a Chautha, why? Air condition ek jagah pe hoti hai. Then the actors like to wear all their beige and their whites. To show off to the world. And their hair and their dark glasses.
Yeh airport look, raat ko bhi sab sunglasses pehenke aate hai. Yeh besharam actors, unko sharam nahi aati, tum raat ko bhi chashma pehenke aate ho. I understand that you've had a bad night but it's become a style statement. We're talking about airport look, same has become a chautha look.
Listen to 'Rishi Kapoor on a roll' from #NoFilterNeha – Season 2 on Saavn App.