Recently the actress Neha Dhupia had world popular Tennis player Sania Mirza on her talk show 'No Filter Neha' Season 2. On the show, Sania spoke her mind and revealed many unknown facts about herself.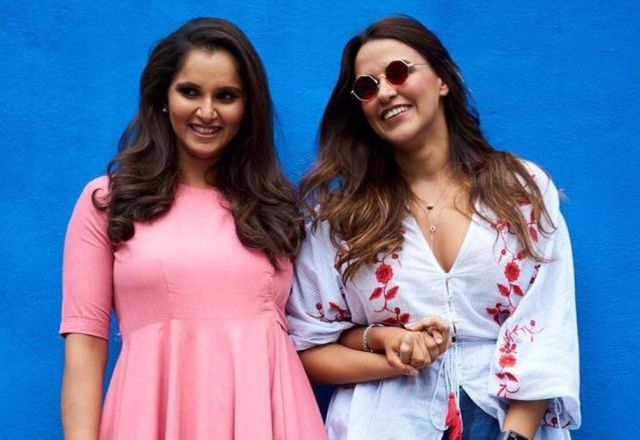 Sania's love advice for Parineeti
Parineeti's love advice is – please love! She loves her friends, she loves her other relationships but I'm like buddy, let's just find you a guy. But shes like nahi, she's a little choosy I think. so she doesn't want to be with actors, which she's also said on one of the shows. And she's like I don't want to be with actors, I don't want this. Matlab woh set nahi hai, Bollywood ka dimaag nahi hai uska.
Sania's funniest lover boy experience
There was this friend of mine actually and I always knew he was interested in me. So all of a sudden, this was years ago, it was my birthday and me and my mum share the same birthday so I always leave home after 12 am. We cut the cake together, wish each other and everything and leave after that.
So her friends come, my friends come and then, so that's always been a rule since I was young. So my mum knew this friend really well, cause he's a friend, he used to come over. So I get a call at around 11:55 or something and he's like – can you come out? I was like no no I can't come out now. I'm going to cut the cake with my mom and he's like no, no, can you come to the balcony.
So I bring my mum, we all go to the balcony and he's like with a few guys. I don't know who they were, you know, the random guys and he's like bursting crackers at like 12 at night. And i was like, mum, I think you can go in. This is a little awkward. My friends still tease me. Aaya na, phatake phodke gaya.
Sania doesn't want to give Leander Paes any advice
I wouldn't want to give him any advice on anything!
Sania being thrown out of the Falaknuma Palace
It was my party for becoming number 1 we had thrown and then there was an after party after the whole ceremony and everything, when everybody older left and everybody young came in. So we had a big night basically and it was a celebration and people jumped in the pool, with clothes on fortunately.
And yeah then at 5 o'clock they said listen, it's really loud and we're really sorry but you guys have to leave. And we were like, but we've paid for the room. I became number one in the world, come on, I deserve that kind of a party. But then we left. But it was lots of fun.
Sania confesses to being possessive
I need to be less possessive. I'm not insecure, im possessive. There is a big difference, I think. I just am and I would love to be a little bit less.
At a party, this is Sania's vice!
I actually don't party a lot , I party a little bit. But my parties are quite sober as compared to "other parties". Im doing inverted commas right now guys. Because I don't drink and I don't smoke so my only vice is sheesha, that's my only vice. So my party has to have sheesha because that's the only time I indulge.
You will not believe the one show Sania Mirza was hooked on to!
Listen, I liked that show ya. It was a sweet show. And my sister would be like, seriously? You're going to sit in Wimbledon and you're going to watch this?! And I was like listen, I have to go and find this website that shows Balika Vadhu. I somehow lost interest over the last couple of years but my mum used to watch.
So whenever I would spend time with my mother, you have to sit and watch the serial. So obviously at some point I started getting interested and I was like accha, ab kya ho raha hai. And on the phone I'd be like mamma uska kya hua Anandi? I've always maintained in my interviews – do I look like the saas bahu type to you? But I am! But I'm over that phase now, I've moved on to cooler things like suits.
Sania's love advice for Neha
Don't date people that long and not get married!
Listen to 'Sania Mirza Smashes It' from #NoFilterNeha – Season 2 on Saavn App.