In the recent episode of celebrity talk show 'No Filter Neha' – Season 2, actress turned host Neha Dhupia had actress Vidya Balan. On the show, actress revealed many things about herself and also confessed that she wants to work with heartthrob Ranbir Kapoor.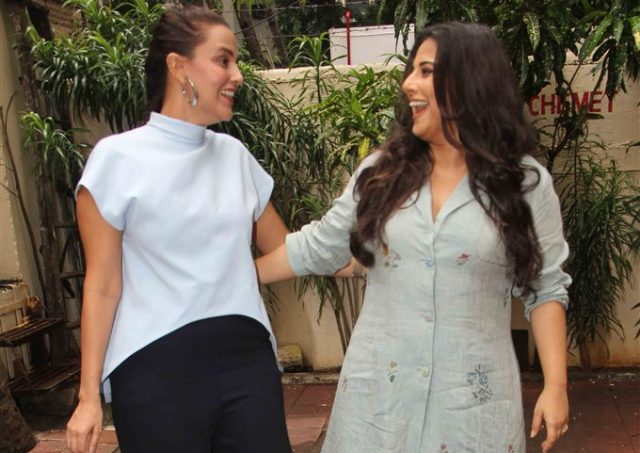 Vidya gave up her love interest for her sister
You know I felt I was a sacrificial martyr because the moment I got to know that he actually liked my sister and they started dating and was like "Shayad yeh mera jija baan sakta hai" So I just decided to give up my love.
Guess what Vidya Balan is addicted to
I will tell you what I like to inhale on a film set, Paint and turpentine. Wherever I smell paint or turpentine, I ask for people to get me a little bit of it and I keep inhaling it. And people have told me its an addiction and I'm like no its not an addiction but ya it is addictive and I love it!
Vidya talks about Arshad polishing her food!
At that point, Arshad was obsessed with being fit. The hotel we stayed in, the walls were really porous and he would wake up at some 4:30 in the morning and I'd hear him walk the treadmill. Lunch he'd have tinned tuna or salmon and I would get my lunch from a hole in the wall maharashtrian restaurant called Bandu Gore. Roti, sabzi and lovely raita.
My team and I used to have that for lunch and dinner. Invariably, I would skip dinner. I would have fruits or something and at around 8, 8:30 I would get a call from Arshad saying khana kha liya? I'd be like nahi, khane wali hun but soch rahi hun nahi khau. He'd be like nahi nahi suno kisi ko dena mat, main aa raha hun and he'd come and polish off the food!
Vidya being petrified of Naseeruddin Shah!
The reason Arshad and I got along so well is because I was petrified of Naseer Saab. I remember the first day, first scene, the cinematographer was lighting and he must've asked Naseer Saab to move a couple of times and Naseer Saab snapped at him! Snapped at him not badly but…when he snapped I said ab toh ho gaya kalyan!
Vidya on her kissing experiences
Madhavan I don't even remember. Arshad's very good but Emraan just before the scene he'll say something really ridiculous to you. On Ghanchakkar, he kept telling me – so what do you think Siddharth's going to say after the scene? You think I'll get my last cheque? And I'd be like why? He's like ya, after Siddharth watches this…id be like you know dude, do you have to do this before every take!
Vidya doesn't mind kissing a girl
Ya maybe. Why not? It's not my natural instinct obviously but for a role, ya maybe. And if then Penelope Cruz or Salma Hayek or Emma stone maybe.
Vidya's own rituals
I'm not at all religious. I have a problem with religion actually. But yes, I have my own rituals. I've been brought up a Hindu so those rituals are a part of my…lighting an agarbatti or lighting a diya or putting flowers, that comes very naturally to me.
Vibhuti because I love the smell of it, I love that it's white so it signifies all colours. There's a Saibaba mandir close to where I grew up in Chembur and I used to visit the mandir everyday for years. Whatever happened. So I think it's a nice start to the day. I have my little ritual.
Vidya's "profile" encounter with Rekhaji
At an award function, I bumped into rekhaji and the photographers were going mad so I trickily I tried to be on the left so you know it would be my correct profile. She did a full chakkar around me and came to the other side and said – I'm an old hand at this, honey!
Vidya's horrifying train experience!
Thank god the train was just hitting the station so he didn't die or something like that. But I was in the ladies' compartment coming back from Xavier's where I studied. Three of us friends. We were just sitting and chatting and suddenly I saw this guy get in and sit on the opposite side.
So I said yeh ladies hai and he said oh accha ladies hai. He said haan agle station pe utarta hun. Agle station pe he went towards the exit so we thought he got off. Once the train started he came in again and said oh main nahi utra, main agle station pe utarta hun.
So he was sitting there by the window. And then I kept looking at him and it was very uncomfortable you know. You get a sense that something's fishy.
By then he pulled his zip down and he started you know masturbating, shagging right there! He flashed us and I had a writing pad or a file or something in my hand. I went and hit him aur maine maa behen ki gaali bhi di. Pushed him towards the exit and then literally pushed him out of the train. I was enraged!
Vidya confesses wanting to work with this actor
Ranbir is such a good actor. And I want to work with him.
Vidya on being ready to have kids
Not yet. We have our hand quite full and more than anything else it's great to spend time with kids you're not responsible for.
Best fake laugh award
Rani Mukherjee
'Almost made it but didn't' award
Harman Baweja
Listen to 'Vidya Balan goes Wild' from #NoFilterNeha – Season 2 on Saavn App.